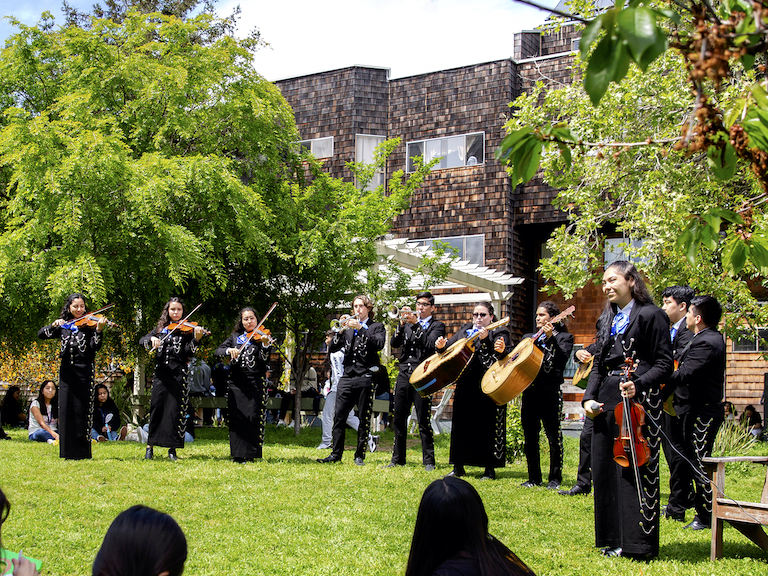 Latinx history, literacy, literature.
For Latinx Heritage Month 2021, we are shining a light on six of our many Hispanic and Latinx faculty, professors, and staff who continue to make significant strides in our campus community.
Diane Bautista
Professor of Cell and Developmental Biology
Bautista, herself a first-generation transfer student herself, conducts research on the sensations of itch, touch and pain in the Department of Molecular & Cell Biology,
Helen Wills Neuroscience Institute. Her lab uses cellular physiology, molecular biology, molecular genetics, and behavioral studies to elucidate the molecular mechanisms underlying itch and pain transduction under normal and pathophysiological conditions. Her research has been published in Nature Neuroscience, PNAS, The Journal of Physiology, among other publications.
Bautista once commented about transfer students: "Transfer students bring an incredible amount of energy, maturity and knowledge and they go on to do amazing things. I was a transfer student and a first-generation college student, and I always tell students that if I can do it, they can do it, they can do it too."
José Pablo Vázquez-Medina
Assistant Professor, Integrative Biology
Praised by students as a great mentor, Vázquez-Medina describes himself as "a broadly trained biologist with a strong interest in redox physiology. I have participated in research projects investigating the role of oxidative stress and redox signaling in adaptation and disease in a variety of systems, from human cells to invertebrates, rodent models of diabetes, hypertension, and lung disease, and marine mammals."
His work has appeared in numerous publications, including Redox Biology, Functional Ecology, and the American Journal of Physiology-Heart and Circulatory.
Patricia Baquedano-López
Associate Professor, Graduate School of Education
Baquedano-López examines the intersection of language and race in education. A scholar with a long-standing interest in the education of minoritized students in schools, a strand of her research focuses on Indigenous Latinx students and examines processes and practices of settler colonialism in education. Her most recent projects address the dynamics of transnational Indigenous sovereignty, return migration, and education in the Maya diaspora Yucatan-California. She is affiliated faculty in the Department of Anthropology and is co-founding and core faculty member of the Designated Emphasis in Indigenous Language Revitalization. She was Chair of the Center for Latino Policy Research (now the Latinx Research Center) from 2007-2009 and from 2014-2017.
Raul Coronado
Associate professor of Ethnic Studies
Coronado researches Latinx literacy and intellectual history from colonial times to the 1940s. He was given the Ritchie Distinguished Fellowship in Early American History from the Huntington Library. Additionally, the Guggenheim grant will support his book project: The Emergence of the Latina/o Self, 1780-1870: Reason, Rights, Publics, Presence.
Daylet Dominguez
Associate professor of Caribbean and Latin American literature and culture
Daylet Dominguez is an associate professor of Caribbean and Latin American literature and culture. She is currently working on a book "that analyzes the links between literature and ethnography in the Hispanic Caribbean during the last decades of the Spanish empire and the period of nascent cultural nationalism from the early 19th century to the first decades of the 20th century." Additionally, she is the co-editor of an issue, "Slavery, Mobility and Networks in Nineteenth-Century Cuba" in the journal of Atlantic Studies.
Pablo Gonzalez
Lecturer in Chicano Studies and Ethnic Studies
Originally from Berkeley and a Continuing Lecturer in Chicana/o Studies and Ethnic Studies at UC Berkeley, Dr. Gonzalez's work focuses on transnational social movements. In particular, he has investigated the political and cultural resonance of indigenous social movements on Chicanx and Latinx communities in the United States. With a PhD in Cultural Anthropology from the University of Texas at Austin, he also works on issues of criminality and illegality and he has also written on what a decolonial anthropology might look like. Dr. Gonzalez has presented and facilitated workshops on decoloniality in Mexico, Latin America, and Europe. He is currently working on his book manuscript which looks at Zapatista-inspired activism amongst Chicana/o activists.
Cristina Mora
Sociology professor an on the faculty advisory board for the Latinx Research Center
As a a first-generation college graduate, Mora focused her interests in first-generation programs. Her research focuses on questions surrounding census racial classification, immigration, and racial politics in the United States and Europe. Her book, Making Hispanics, provides the first historical account of the rise of the "Hispanic/Latino" panethnic category in the United States. This work, along with related articles, has received wide recognition, including the 2010 Best Dissertation Award and the 2018 Early Career Award (SREM) from the American Sociological Association. Making Hispanics has also been the subject of several NPR and national media segments on Census Politics and Latino identity. Her work has been published in venues like the American Sociological Review, Annual Review of Sociology, Latino Studies, and the Du Bois Review.
Laura E. Perez
Chair of the Latinx Research Center
Perez is the Chair of the new interdisciplinary and transAmericas research hub, the Latinx Research Center (formerly the Center for Latino Policy Research). She is author of Chicana Art: The Politics of Spiritual and Aesthetic Altarities (Duke University Press, 2007), in which she theorized decolonial aesthetics and decolonial spiritualities while archiving the work of more than forty Chicana visual, literary, and performance artists from the early 1970s through the early 2000s. She curated UC Berkeley's first and only US Latina/o Performance Art series in 2001-02; co-curated, with Delilah Montoya, the multimedia exhibition Chicana Badgirls: Las Hociconas at 516 ARTS gallery in Albuquerque, New Mexico, from January-March of 2009, and curated Labor + a(r)t + orio: Bay Area Latin@ Arts Now at the Richmond Art Center (April-June 2011).
Berkeley is honored to have these wonderful staff members that have made major contributions and continue to share their knowledge with Cal students. Is there someone we missed? Let us know: sacommunications@berkeley.edu
Dixie Valle is a senior at Berkeley majoring in Political Science.