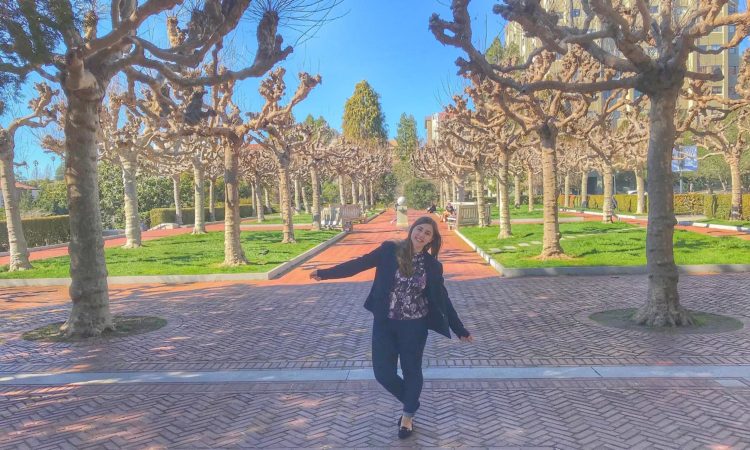 Out-of-state transfer? I've been in your shoes.
Every 8 a.m., as I'm rushing from the BART station to campus, thankful that classes start ten minutes after their scheduled time, my mind takes a break from my mental to-do list and focuses on the Berkeley icon in front of me: The Campanile always makes me think to myself: "Holy !!!!, you did it. You're in California, and crazier than that, you're at UC Berkeley."
Whether you have committed to UC Berkeley or are kinda-sorta considering it, congratulations for getting admitted (huge!). And also for being a go-getter and having the courage to reach outside of your comfort zone when you move. Leaving behind your family, friends, and everything you are used to isn't easy. The answer you are probably searching for is: yes, it becomes worth it. Before I tell you why that is, let me walk you through my lens of the world as a female, out-of-state, transfer, STEM student.
Road stops along the way
My first culture shock came from moving to New Jersey with my little sister, after having graduated from high school in Pogradec, Albania. Suddenly having to worry about taking care of somebody else, adapting to the fast paced life of North Jersey and paying bills with broken English were only a few of the new turns my life had taken. What took my mind off of bills and the then-confusing FAFSA application was getting involved at Bergen Community College, my new home away from home.
At Bergen, I was so excited and appreciative of all of the different opportunities I could take advantage of, though at first my family did not share my excitement. As a female, I was not supposed to go to weeklong conferences or spend nights on campus. The circumstances just weren't the same.
Back in Albania, there was no STEM club where I could lead a team that develops 3D-printed prosthetic arms. There was no Phi Theta Kappa chapter that I could take part in and eventually lead an organization of 3 million and growing. There were no financial aid workshops, tutoring centers or research opportunities.
Having all of that at my feet gave me the freedom to choose a path for myself. I had to pull away from my family's old ways and become a different kind of woman that embraces independence.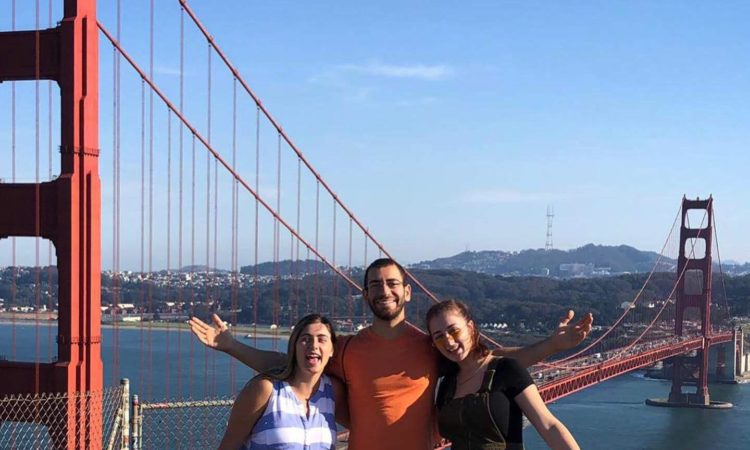 Taking my own path…what better place than at San Francisco's Golden Gate Bridge?
Do your research
It was then that I learned transfer tips that become exponentially more important when transferring to a completely different higher education system like the University of California.
This included seeing community college advisors often, applying for scholarships, and taking introductory courses or courses that definitely fit UC transfer criteria: "Intro to Sociology" is much more likely to transfer than "Medical Legal Ethics, Records, and Writing".
More importantly, I learned that opening new doors takes less effort when you have people or organizations that have your back. For me, it was my sister, Phi Theta Kappa Honor Society and the Jack Kent Cooke Foundation. You probably already know who that is for you. Side tip: Do not forget to be grateful and give back, and I do not just mean financially.
Fixing flat tires
Getting admitted to UC Berkeley was a dream come true, but I woke up soon after. Things like moving logistics and the rush to graduate in my allotted two years were problems. Over the course of my first semester at Cal, I ran into resources that helped me alleviate them.
The BART
The first is the BART, the rail system that gets you around in the Bay Area. If you plan on commuting to campus, living near a BART station will make your life much easier.
The Basic Needs Center
This center is a great place for students that need easily accessible food resources. You can walk in, grab food and walk out. There is extra seating, microwaves, a fridge, and even people there to help you get additional aid.
Peer advisors
Although you should always see an academic advisor to make sure you are on track to graduate, peer advisors are hidden gems that not as many people visit. They have the inside scoop on what the best classes are for your career goals, and they can point you to resources like berkeleytime.com.
Going above and beyond
If you're anything like I was, you just want to get in and get out, and leverage Silicon Valley as much as possible. What I failed to notice my first couple of months is that at Berkeley, Silicon Valley often comes to you.
As a Data Science major, I found Data Scholars, a one unit seminar that has workshops and speakers from companies like Dropbox, Pinterest, or Goldman Sachs. Other majors have similar networks and resources available to them. Here is a quick checklist to leverage a lot of what the university offers:
Go to events.berkeley.edu and if anything looks interesting to you, put it on your calendar. By doing this, I learned about biweekly data science forums held on campus by professionals in the academic world!
After you set up your CalCentral account, you can access the course contents of many courses at Berkeley. Some courses, especially in STEM, are recorded and saved on course websites so you can take advantage of the world's top professors without exceeding your credit limits.
Do not wait to download the free software you get just by being enrolled at Berkeley. This includes Adobe Creative Cloud (Photoshop, Illustrator, Premier Pro, etc). My fellow data nerds will appreciate Tableau and MATLAB being free as well!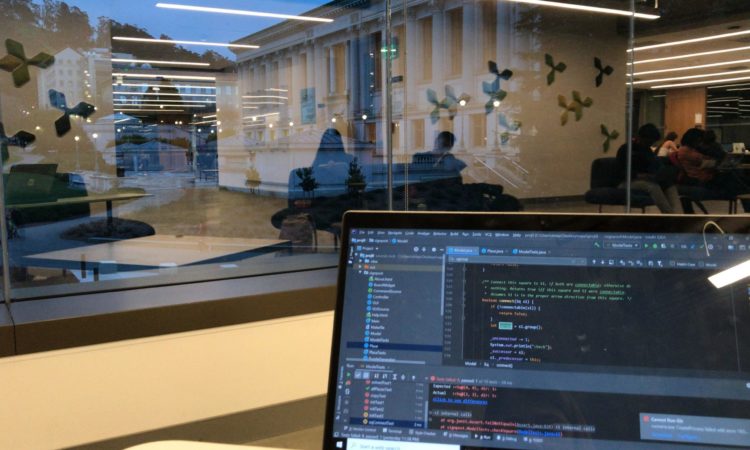 Typical campus Learning Center…don't wait to download the free software!
Driving it home
On my way home every night, I focus my gaze beyond the BART's window and think about what I have yet to do that night. Sometimes I think of the bigger picture and wonder if I am any closer to achieving my goals. I realize that just by pushing through the day, I have moved toward them and the sacrifices I made become worth it. I know that if I can move across the Atlantic, and then across the U.S., and attend the world's top public university, I can adapt to any situation life throws at me.
I hope you will find this to be true on your own journey to UC Berkeley. It is true that out-of-state students in general are not as easy to find as others, but being one gives you an edge that is often hidden underneath the pile of difficulties you have had to overcome. You have a unique story that will get you that internship. You have a newfound sense of independence that might not have been there before. Most importantly, you have a drive for success that makes your sacrifice worth it. The higher the mountain you climb, the better the view.
Elda Pere is an author and Jack Kent Cooke scholar studying Data Science at UC Berkeley.