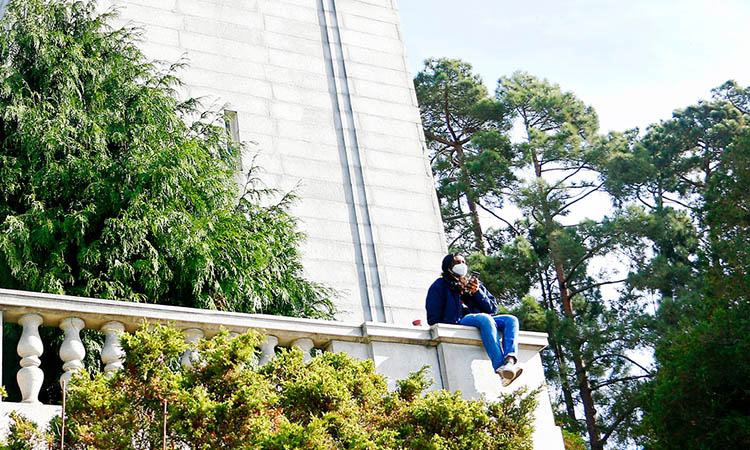 Pandemic Lessons: The Good, The Bad, The Cool.
COVID-19 has turned everyone's life around, especially college students. Digital learning has affected not only the way we learn, but also how we socialize. Several college students shared with us their experiences and even discoveries they made that have got them through these difficult times. We think you might find some inspiration.
The pandemic has been interesting, to say the least, but we are almost through it. So hang in there!
The academic side
This academic year was definitely one of my hardest at Berkeley because it was online. But there have been positives! In my Korean language class, for example, the instructor utilizes breakout rooms on Zoom to let us practice speaking with our classmates, and that has helped make my class seem more personal despite being online.
Kaylie C., Legal Studies, Class of 2021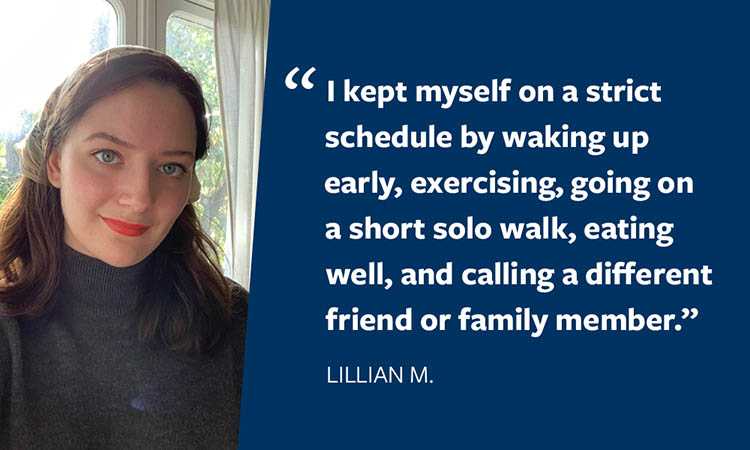 I live next to Memorial Stadium, so it's easy to get COVID testing twice a week. It was scary the first time, but the process is so fast and it's such an easy way to provide peace of mind, especially since testing is free for Cal students. Since last August my co-op house has had to quarantine twice. It's definitely not a fun or easy experience, especially since most of us aren't used to being alone with our thoughts for so long (or being with a roommate 24/7), and we can't control what other people do.
The first quarantine happened during fall semester RRR (Reading, Review, and Recitation) and final exam weeks, and it was excruciatingly hard to study and take finals under those conditions. The second quarantine period was at the beginning of March, and it was much easier because I knew what to expect and what to do differently. I kept myself on a strict schedule by waking up early, exercising, going on a short solo walk in an isolated area every day, eating well, and calling a different friend or family member to feel less lonely.
Lillian M., English (Education minor), Class of 2022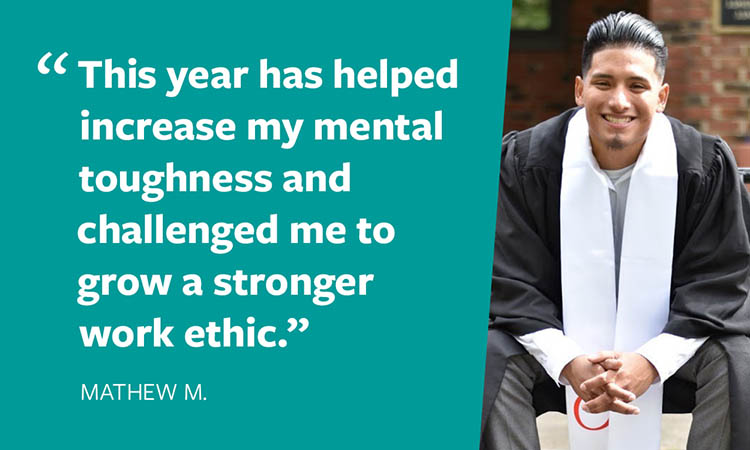 As a first-year graduate student, this experience has been difficult to say the least. I definitely did not expect the year to go like this when I first got accepted to Berkeley, but I have tried to make the best of the experience. I can say this year has helped increase my mental toughness and challenged me to grow a stronger work ethic. My most surprising discovery would be learning that Zoom classes have been very beneficial in improving my public speaking skills and made me feel comfortable with speaking up in class or with my professor.
Mathew M., Graduate School of Journalism, Class of 2022
I absolutely love seeing my teacher's and GSI's cats. Shout out to Bob and Milosh! (cats ahaha)
Vanessa L., Legal Studies (Chicano Studies minor), Class of 2023
The social side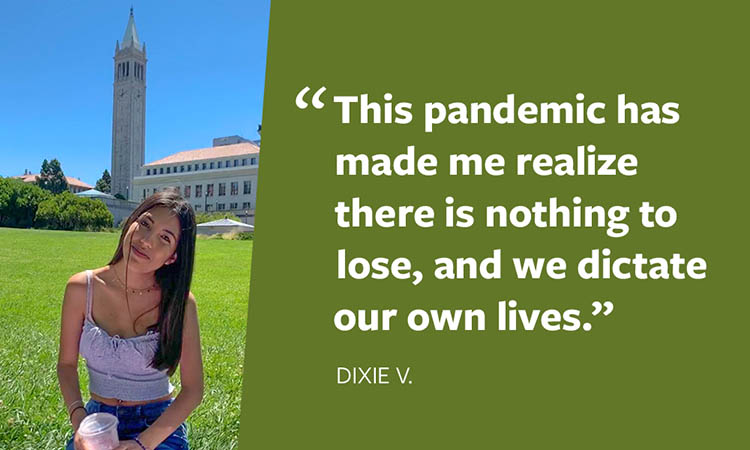 I am currently rooming with some of my friends, which has provided that social experience. I also do Zoom study sessions or movie marathons with friends that are not living close to me. This pandemic has made me realize there is nothing to lose, and we dictate our own lives. And so I started applying to clubs I never thought I would get into. I was able to get into these clubs and have made amazing friendships through there.
Dixie V., Political Science, Class of 2022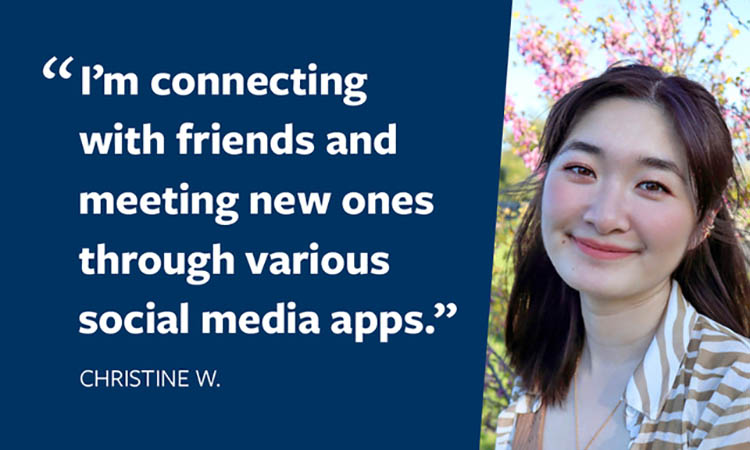 I'm connecting with friends and meeting new ones through various social media apps, including TikTok, Snapchat, and Instagram.
Christine W., Biology/Public Health, Class of 2023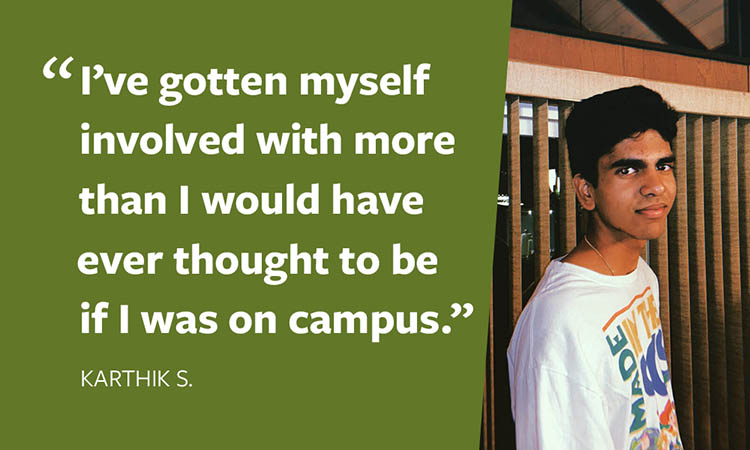 I've gotten myself involved with more than I would have ever thought to be if I was on campus. In general, I think I felt the need to meet more people especially with the remote nature of work so I went out of my way to do so and have really been enjoying it.
Karthik S., Electrical Engineering & Computer Science/Applied Math/History, Class of 2023
We also organized online house activities like study sessions to ease the isolated feelings. It's mentally exhausting but not the end of the world, and quarantine helps put things in perspective.
Lillian M., English (Education minor), Class of 2022
Cool discoveries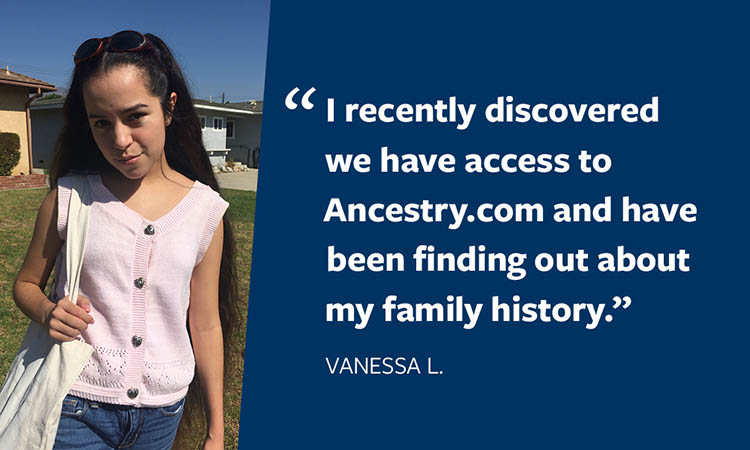 I recently discovered that UC Berkeley students have access to Ancestry.com and have been finding out a lot about my family history and using journals in the Library! It's kept me occupied!
Vanessa L., Legal Studies (Chicano Studies minor), Class of 2023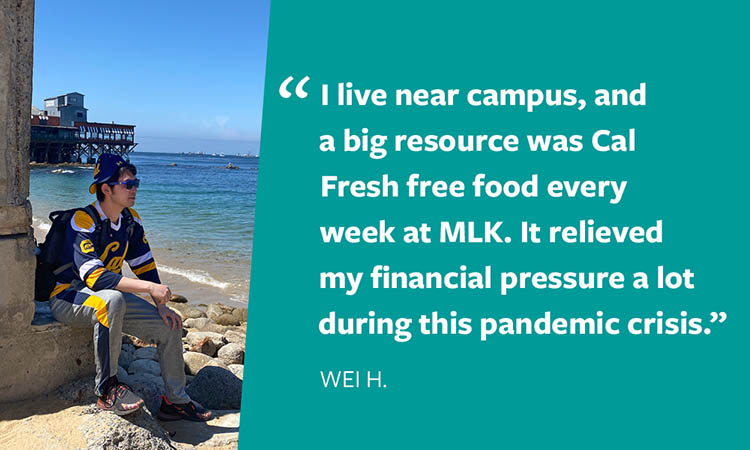 I live near campus, and a big resource was Cal Fresh free food every week at MLK. It relieved my financial pressure a lot during this pandemic crisis.
Wei H., Materials Science & Engineering, Class of 2020
Office hours! While office hours have obviously always existed, I rarely attended them due to distance or time it took to get to them. With remote learning, there is obviously no longer any travel time, meaning I started going much more often. By doing so, I'm not only learning more and finishing work quicker, but also getting to know some of my course staff.
Karthik S., Electrical Engineering & Computer Science/Applied Math/History, Class of 2023
I've rediscovered the library, which has many textbooks and other reading material available online.
Christine W., Biology/Public Health, Class of 2023
While the pandemic year has been a difficult one, it has also provided us with resources we might not have found and definitely given us new experiences. This has been a time for students to reflect, but I am so excited about the real possibility of seeing everyone on campus in the fall. Go Bears!
Dixie Valle is a junior, majoring in Political Science with an emphasis in American Politics and a minor in Public Policy.