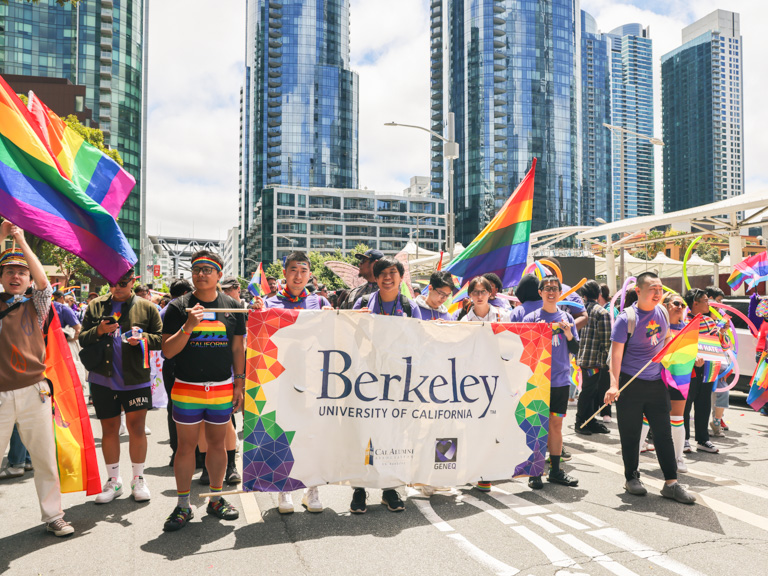 Celebrating Pride: June & Beyond
On Sunday, June 25, staff, students, and alumni from UC Berkeley attended San Francisco Pride, one of the largest LGBTQIA+ celebrations in the world.
Together, they waved flags, carried signs, and marched in the hallmark Pride Parade from Beale Street along Market to 9th in downtown San Francisco. Their participation was spearheaded by the Gender Equity Resource Center (GenEq) at UC Berkeley, a campus community center dedicated to creating an inclusive, welcoming environment for all.
GenEq @ SF Pride
San Francisco Pride is an annual celebration held in June that honors the extraordinary strength and diversity of the queer community. This year's theme was "Looking Back and Moving Forward"—a statement meant to raise awareness about the current political climate. The celebration took place over the days of June 25 and June 26.
To learn more about the technical side of Cal's participation in San Francisco Pride, I spoke with Safa Basravi, a rising senior from Eastvale, California, and one of GenEq's organizers. Safa herself is not a member of the LGBTQIA+ community, but she is a proud ally, and has planned several events with GenEq, including Lavender Graduation.
Safa: "I attended Orange County Pride last summer, and in contrast to that, planning for San Francisco Pride was a completely different ballpark. For SF Pride, we've been pre-planning since last summer, contacting the San Francisco Pride contingency and starting registration immediately. The bulk of our work really began in May, though, when we hammered out fine details and logistics—the estimated number of attendees, how many trucks we needed, what description we wanted the news broadcast to give for us, et cetera."
Queer Cal Student Experiences
In addition to speaking with GenEq organizers prior to San Francisco Pride, Emma Ancel, a Student Affairs Communication staff member, attended the celebration and was able to interview participants on the ground.
Ronan was the first Cal student to be interviewed. San Francisco Pride was his first time attending any sort of Pride Celebration, and he took comfort in the energy that the event exuded. The second student interviewed, a rising third-year, preferred to remain anonymous due to incidents against members of her group, the Lavender Alliance. The Lavender Alliance (@lavenderalliance.berkeley on Instagram) is a UC Berkeley student organization for members of the LGBTQ+ community of Chinese descent, or from the Greater China Area.
1. What's your experience like being a queer individual affiliated with UC Berkeley?
Anonymous: "It's amazing to be out in the open and be comfortable with who you are. I really appreciate all of the resources we have here at UC Berkeley. I've been able to organize several events, and I've gotten all the support I could've ever wished for."
Ronan: "As a gay person, there are so many things going on Cal's Campus that I can participate in. We have in-person events, dedicated social media accounts, and a committed equality office. There is always support behind this community."
2. How does your LGBTQIA+ identity intersect with other aspects of your identity to make you who you are?
Anonymous: "Celebrating Pride this year definitely feels different because we've had violence against our families and government censorship back home. For me to be standing here still—it took a lot of courage.
Back home, our community faces a lot of struggles with the government, culture, and heteronormative narrative in the media. After coming to Berkeley, I think I started another journey with embracing myself. My experience being queer intersects with my racial identity, ethnicity, and culture. This is just the reality of being a whole person, I think."
3. What advice would you give to young queer kids? Is there anything you wish you'd been told growing up?
Anonymous: "When I was a kid, I wish that someone had told me you don't have to fit into any binary identities for gender or sexuality. You just have to be who you're comfortable with—be yourself. And I wish that every kid in the world could grow up in an environment where they didn't feel pressured to conform to social norms."
Ronan: "Be brave. Always speak up, and just accept who you are."
Celebrating Today & Tomorrow
As Pride Month and this article draw to a close, I want to take the time to express my gratitude to be able to attend a school that uplifts queer students. When applying to UC Berkeley, I took a huge risk and marked my official gender designation as nonbinary. This was the first step toward being true to myself, and I vowed that I'd continue that journey once I was on campus. And against all odds, I did. I identified as nonbinary in the housing system, even though this meant I had to jump through hoops in order to room with female-identifying students in the residence halls. When I met people, I mentioned that I use any pronouns. I kept my hair short.
While transcribing quotes for this article, I saw a lot of myself in the interviewees, particularly those of Asian descent. Queerness and ethnoracial identity are two facets of myself that I cannot disentangle; my LGBTQIA+ experience would be strikingly different if I weren't the child of an immigrant from a country where same-sex marriage is not legalized. As I think about this, I reflect on how Cal has encouraged me to explore who I am—to take unabashed pride in my identity. That's a beautiful thing.
Happy Pride to you all: today, and every day.
Nina Takahashi is a queer Japanese American and second-year at UC Berkeley majoring in film and Japanese. Feature photo by Emma Ancel: GenEq organizers and other members of the Cal community march in the San Francisco Pride Parade with a large UC Berkeley banner.