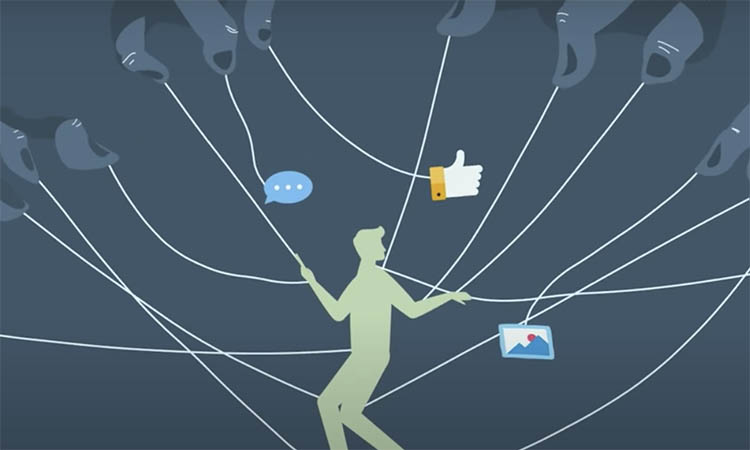 A Student's Take on Cal Performances' Fact or Fiction Series.
As a first-year graduate student at the School of Journalism, I felt giddy with excitement when hearing that Cal Performances would partner with the J-School to host a discussion with Tristan Harris, star of the 2020 Netflix documentary Social Dilemma. The event continued Cal Performances' Illuminations: "Fact or Fiction" series that intends to highlight the dissemination of disinformation and its impact on today's world.
Harris' documentary had blown my mind months earlier and I wanted to hear more from the man who had such an integral part in its making. For anyone who hasn't watched The Social Dilemma, let me give you a piece of advice: Go watch it!
The fact that more than 100 million people in 190 countries watched it in the first month is nothing short of astounding. But the film also completely changed the way I use social media and gave me further insight into how tech companies collect data.
Since I wasn't able to watch the talk with Harris during its livestream on Feb. 7, I made sure to take advantage of Cal Performances' three-month recording availability for all its events. So, the next weekend, I got my popcorn and sat down, ready for my mind to be blown again.
Thankfully, Cal Performances and Harris didn't disappoint.
Role of journalism
To begin, Harris takes the audience back to his days at Stanford in 2006 where he took a persuasive technology class that attempted to figure out if manipulation was possible through social media. Fast forward to present day, and it's well-known that manipulation is seen across online platforms. Some of the alumni from this class, including the founder of Instagram, went on to build these platforms, Harris says.
Harris also discusses the impact of the Social Dilemma, saying its goal was to create a shared reference point to how and why social media has created a mass scrambling of our reality.
Dialogue is essential to solving our society's critical problems, Harris explains, and the film might have been the first step for many to begin that dialogue. This point stood out to me, given that after watching the film, I suggested my family do the same.
Pushing back
Moving forward, Harris suggests the role of journalism in pushing back against disinformation. Above all, he says awareness must be raised to the general public about the crisis of online polarization. Harris then suggests forming a U.S. commission that will serve to rebuild trust in the media and lessen the dependence on social media companies who are struggling to be held accountable.
I agreed with much of Harris' approach, especially the importance of restoring dependence on reliable news sources and journalism institutions. Although he highlights many problems that have arisen in recent years from social media, Harris ends the conversation optimistically thanks to this very discussion.
"By each of us waking up and seeing these patterns of what needs to change, we become part of the antibodies for culture to become more immune from this reality dividing virus," Harris says.
Check it out
The first step to helping stop the spread of disinformation is to become more aware, so don't miss your chance with this enlightening discussion. Head over to Cal Performances and learn how we can fight back to promote a positive, shared-information environment!
Mathew Miranda is a first-year graduate student at the School of Journalism. Featured image courtesy of Social Dilemma.