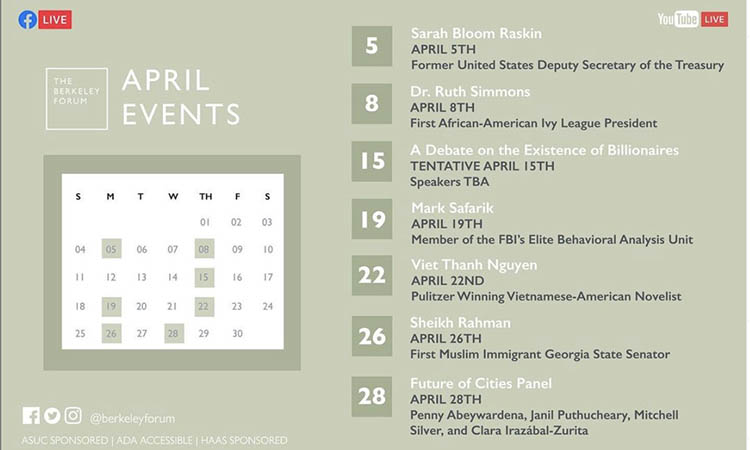 And More From The Berkeley Forum.
When I found out through Facebook they were holding a Universal Health Care Panel, I knew I had to attend.
The panel was organized by The Berkeley Forum, an ASUC-sponsored club known on campus for holding a different variety of speakers. Most famously having featured Dr. Anthony Fauci last fall, The Berkeley Forum holds about ten to twelve speakers each semester.
The health care panel is timely when we are currently amid a pandemic, and hearing about different perspectives from different experts was eye-opening. This event was held on March 4, 2021 and was recorded on Facebook which can be found here.
There were four speakers all from different backgrounds. The speakers were: Chip Kahn, Adam Gaffney, Jui-Fen Rachel Lu, and Scott Sinder. Chip Kahn is president and CEO of the Federation of American Hospitals (FAH) and Co-Chair of Future of Health (FOH). Adam Gaffney is an instructor in Medicine at Harvard Medical School and Pulmonary and Critical Care Physician at the Cambridge Health Alliance. Jui-Fen Rachel Lu is a professor at the Graduate Institute of Business and Management and Board Director at International Health Economics Association. Lastly, Scott Sinder is Steptoe & Johnson, partner and chair of the Firm's Government Affairs & Public Policy Practice Group and Council of Insurance Agents & Brokers & Chief Legal Officer.
How we can achieve universal health care
Important points were brought up, but it was clear that the speakers all believed in universal health care; however, they differed on how it would be achieved.
Interestingly enough, Jui-Fen Rachel Lu was able to bring up a viewpoint of how Taiwan handles universal health care. Lu shared the consensus of social solidarity in Taiwan which makes universal health care feasible there.
This brought up the point of how culture affects countries' views on universal health care. Chip Kahn discussed how America is highly individualistic which makes even the idea of universal health care controversial.
This panel discussed all factors that go into universal health care not just the economics and health factors but also the cultural, social, and political aspects.
The dilemma of moral hazard, people abusing universal health care, was discussed. However, all speakers of this panel came to the conclusion that there would be no substantial increase of Americans going to the doctors.
Adam Gaffney discussed that "people don't like going to the doctors, … and certainly they don't like the intensive care unit". In other words, Gaffney is saying it is an inconvenience to be unhealthy and go to the doctors even under universal health care. The other panelists agreed with this sentiment and do not believe there would be a substantial increase of people going to the doctors.
Coming up in The Berkeley Forum
There are still speakers and discussions to hear this spring: A Discussion of Billionaires, April 15 (tentative); Vietnamese-American author and Pulitzer Prizewinner Viet Thanh Nguyen, April 22; First Muslim Immigrant Georgia State Senator Sheikh Rahman, April 26; and Future of Cities Panel, April 28.
You can follow The Berkeley Forum on Facebook, Twitter, and Instagram.
Dixie Valle is a junior, majoring in Political Science with an emphasis in American Politics and a minor in Public Policy.