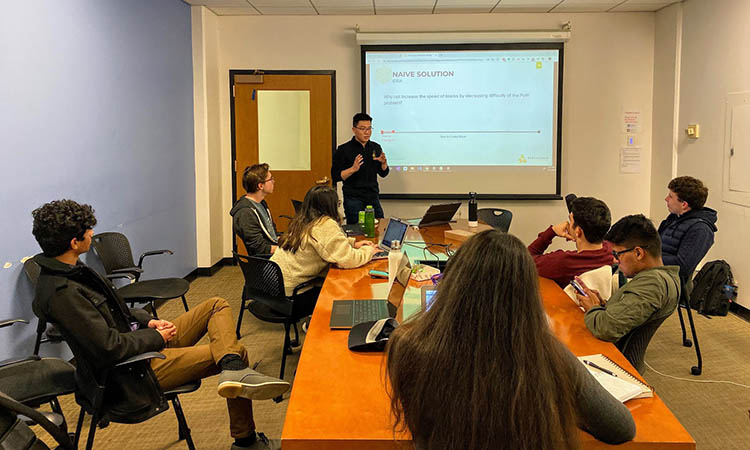 One student's story of teaching DeCal remotely.
When courses moved online, student-taught DeCal classes at Berkeley offered peers a chance to learn from each other and build community around shared interests.
What would you do if you were an undergrad running your own class… and had to move to online instruction ASAP?
We all know how spring 2020 was a hectic time for Berkeley students and instructors alike while everyone adjusted to learning or teaching online. However, certain students had to navigate this difficult time as both students and instructors. The DeCal program offers real university classes taught by students that tackle a variety of subjects, many of which are not typically taught in traditional curriculum. These classes are a chance for students to learn from their peers and build community based on shared interests.
Simon Guo, as a freshman, was one such student who had to handle this interesting intersection. Spring 2020 was his first semester as an instructor for the "Blockchain For Developers" DeCal class, which aimed to teach students how to develop applications using blockchain technology. Specifically, Guo would design and teach lectures, coordinate guest lectures and course logistics, and write coding assignments. When the spring semester suddenly went remote, Guo and the other students running the Blockchain DeCal faced a challenge.
"It was difficult at first," said Guo. "A lot of students were traveling back to their hometowns, so they were unable to make our classes." Even when students were able to attend classes, many did not have their cameras on, so the instructors could not see the students. This created another barrier and made it hard to tell how lessons were being received.
Zooming Solution
Through trial and error, Guo—together with co-instructors Minxing Chen, Grace Kull, Janice Ng, and Haena Lee—discovered strategies they could implement to make the transition online more successful. To make classes more accessible and efficient, the instructional staff changed their approach to teaching. "We would clearly communicate Zoom session information a day before the lecture via email," said Guo. For the students who could not attend sessions live, class sessions were recorded and posted on YouTube.
"Another strategy we used," Guo said, "was to have our team and guest speakers do a run-through of the lecture before the actual lecture to make sure they were comfortable presenting with Zoom, and to avoid any technical issues. After a few weeks, things became much smoother."
Student engagement is another potential obstacle for remote classes. Zoom allows students to choose whether they would like to have their camera on, and some students choose not to, making it more difficult to create a sense of community. To combat this, the student instructors used the Zoom "Breakout Room" function, where students would be put into small groups to discuss ideas and interact with each other.
"One time, we ran through some code and wanted students to discuss and see if they could find any security vulnerability in the code. We put people into breakout rooms and the students loved it. They became more engaged because they were able to discuss with their peers." said Guo.
Collaborating
Although it may seem like online learning makes it more difficult to build a community, as Guo discovered, DeCals offer a space for students to take classes on topics they are interested in, and an ability to connect with other students who share those same passions. Students are also able to teach and learn from their peers, creating a collaborative environment that helps students find a sense of belonging at Berkeley, even if they are miles away from campus.
As the semester continued, it turned out that remote learning had some other important positives. Guo found that online, more students were willing to participate because they did not have to travel to the classroom to attend sessions; they were able to do it from the comfort of their own rooms. Furthermore, because sessions were recorded, students were able to watch the lectures at times that worked for them and their schedules. The class presentation materials were also more clear online on each student's personal screen than in person, on one big screen in a classroom.
After spending half a semester teaching through Zoom, Guo identified a few more tips that may help other students who will also be teaching DeCals remotely. "Do a walkthrough with a friend before you lecture," said Guo. In doing so, lecturers will be able to see if any technical difficulties arise, and fix them before their real lectures. "Also, stop often and check to see if there are any questions in the chat."
All in all, Guo really enjoyed the experience of running a course. In acknowledgement, he had Professor Dawn Song to thank for her support on the DeCal, along with his co-instructors Chen, Kull, Ng, and Lee. "Having gone through the entire process now," said Guo, "I really appreciate all the effort my professors and course staff put in to make this online transition possible."
"Blockchain For Developers" is offered via Blockchain at Berkeley, a student organization on campus. 
Kaylie Chen is a senior (Class of '21), majoring in Legal Studies.