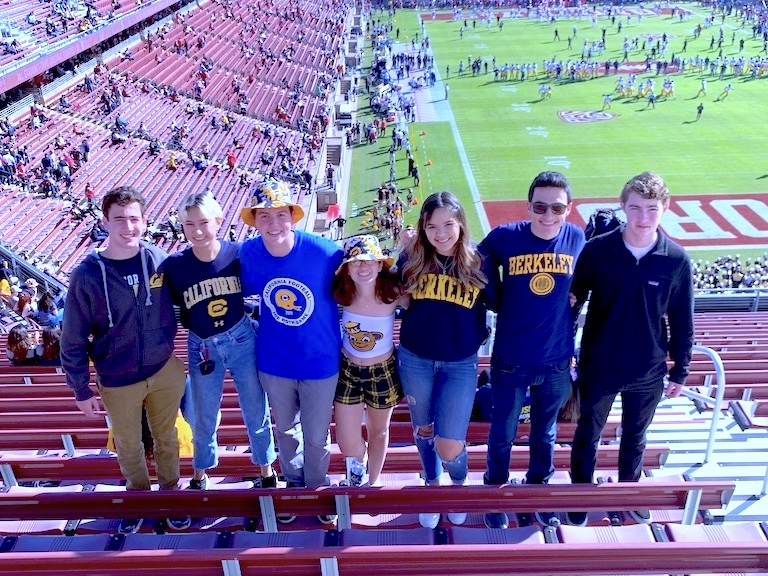 Fun Ways to Enjoy Life at UC Berkeley
It's almost overwhelming how much there is to do at UC Berkeley! In addition to the countless activities taking place on campus, there is also so much to do in nearby cities like San Francisco and Oakland. What you do for fun really differs and depends on your interests. Some students like to grab brunch with friends at Berkeley Social Club while others might go to a football game at Memorial Stadium.
To help you explore—we asked your fellow Berkeley students how they enjoy their time in Berkeley and what they're looking forward to the most, especially after over a year of remote learning and virtual connecting.
Explore Berkeley and beyond
"I am most looking forward to seeing my friends that I've made during COVID-19 and pre-COVID-19 in person. I'm ready to go out and socialize again. I am looking forward to visiting museums, eating at dessert places, exploring SF parks and food places, and exploring the Berkeley Botanical and Rose Garden."
– Selena C., Senior 
"I'm really excited to visit the Greek theatre and the Berkeley Art Museum and Pacific Film Archive!"
– Amaya B., Freshman
"I'm looking forward to intramural sports and cultural activities (art, music, theatre). I want to visit museums and student activities on campus."
– Reece M., Freshman 
"I hope to make memories with friends at the sporting events, student events, and the community of Berkeley, as well as in the city of San Francisco."
– Neftaly G., Freshman
After following COVID restrictions for almost a year and a half it is exciting to be able to explore the city of Berkeley and the local area with friends. Check out local cafes like Cafe Strada, take the BART to San Francisco or explore the East Bay with unlimited rides through the Student EasyPass, and check out Berkeley's own offerings like BAMPFA or the UC  Botanical Garden. Speaking from experience, Berkeley's botanical garden is a must see before graduating. The scenery is beautiful and calming. I will say it takes a couple of visits to get through the whole garden and is a great activity to do with friends who are plant lovers.
Finding Community and Friendship
"I'm really looking forward to meeting new people again – I've missed that immensely through the lockdowns and I love seeing more of the incredible people that compose the Berkeley community. I'm also super excited to restart my Decal."
– Aurum K., Senior
"Definitely looking forward to being on campus and meeting new people! I am really excited to hang out with students. I'm gonna be in a new area so I definitely want to be involved in the community at Berkeley. One specific organization that I wanted to join was PAA (Pilipinx American Alliance at Cal). I would like to go on hikes with other peers and go to the library and have fun study sessions with other students. I feel like we would make really good memories in these places."
– Ryan M., Junior Transfer
"I'm looking forward to meeting professors in person! I'm excited to make deeper, intellectual connections with people who can guide me on the right path. I'm excited to be on the recruiting side of Greek Life! I did the Zoom experience my first year, and I'm glad I can do it in person this year. I'm excited to make memories at the Campanile while watching the sunset, and I'm excited to travel to San Francisco with others. I'll be drinking Sweetheart Cafe's boba or Pho K & K's boba!"
– Kimberly B., Sophomore
COVID made it difficult to make friends and meet new people. Now that we are entering a mostly in-person semester, meeting people will hopefully become easier. 
One of Berkeley's most distinguishing factors are DeCals—interesting courses usually taught by Berkeley students that are only 1 to 3 units. These classes are known for their fun, specificity, and range of interests, including about Frank Ocean (a popular one amongst Berkeley students) or a guide on happiness. I met one of my closest friends in a discourse at DeCal and we are now in the same club together. There are also so many classes offered at Berkeley taught by professors who are passionate about their field. Take time to thoughtfully explore classes that might interest you. You will definitely meet people in your classes that are passionate about the same things you are! 
Another way to find your community is by joining new clubs or creating study groups with your peers. While lectures are usually hundreds of students, discussions are only 20 to 30 people. The small environment of clubs and discussions makes it easier to connect with your peers.
Finding Good Eats and Chill Vibes
"I'm really excited to find and join an art club and meet some upperclassmen. I'll definitely be studying around the Doe Library, probably at the dome areas. I'm probably most excited to make memories at the food hubs like Telegraph!"
– Gabrielle N., Sophomore
"I am excited to explore the city, especially the (plant-based) food and nature. I hope to go to some concerts and parties to fill up my weekends!"
– Alexandra M., Freshman
"My friends will most likely find me in the library and in the surrounding shops such as boba shops, and downtown thrift stores! Anywhere where there is good energy and good vibes, I will be!"
– Angel P., Freshman 
The city of Berkeley features lots of small businesses, which makes it fun to explore restaurants. There are so many to choose from on Telegraph Ave alone, ranging from Asian to Mexican food. I rarely go to fast food chains when in Berkeley because I have found restaurants that I really enjoy here. Shout out to Sliver and Mezzo' for the best pizza and salads in town. 
There is no right or wrong way to have the college experience as long as you are enjoying yourself and your time here. I am definitely excited to add some of these recommendations to my list this coming fall and hope you will add some of these too—find more ideas for enjoying fun activities on and around campus in part 2. As always, go Bears!
Dixie Valle is a senior at Berkeley majoring in Political Science.