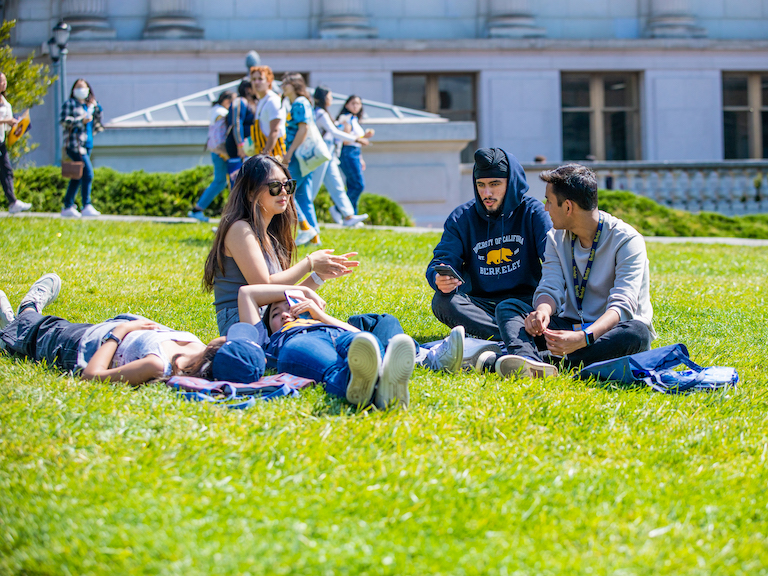 Ways to Stay Connected – Social, emails, websites, and more
UC Berkeley is a big school and it can be difficult to keep up with everything that goes on around campus. If you were wondering if there's a list of ways to keep you connected, look no further! Read on for some tips to stay in touch with what's important to you.
Newsletters and Emails
Check your bMail (Berkeley email) regularly. There's no getting around it. The quickest updates from the university will arrive in your inbox first. And depending on what you decide to subscribe to, updates can come in from other groups around campus, including clubs and organizations. Here are some newsletters and emails you can keep an eye out for or subscribe to if you haven't already:
The Berkeley Life Roundup is a monthly email with lots of helpful information, such as upcoming events, resources, support, and important campus updates (no need to sign up!).
GradNews is a monthly email newsletter curated specifically for graduate students. As a grad student you are automatically subscribed.
EOP's (Educational Opportunity Program) monthly newsletter is filled with great resources on advising hours and upcoming deadlines.
The Financial Aid & Scholarships newsletter is sent about twice a month and includes important deadlines and links to helpful resources.
CalDining's newsletter has details on upcoming events, dining commons hours, and dietary information—especially helpful if you have an on- or off-campus meal plan (you can also find daily menus on their website).
The Basic Needs Center newsletter provides updates about the Food Pantry, related events, and other essential services once a month.
CareerMail from the Career Center and Handshake is a great way to get information about your career interests straight to your inbox.
The Transfer Student Center's newsletter features resources, events, and opportunities for transfer students.
For those in the residence halls or campus housing, watch for Res Life emails about upcoming events and Housing emails about deadlines and updates.
If you're interested in volunteering or giving back to your local community, find opportunities in the Public Service Center's newsletter (sign up in the sidebar).
Sign up for newsletters from campus clubs or organizations that you are interested in! If you're thinking about applying for a club next semester but are on the fence, sign up for their newsletter to get more insight into the club.
Okay, you subscribed… But why is it important? Why should you stay subscribed? Newsletters and email updates are some of the fastest ways to learn about what's going on around campus without having to hunt down the information yourself. I found out about a mentorship program through a Chicanx Latinx Student Development Office newsletter and attended a Career Connections Alumni event because of a Handshake update. Signing up for at least one newsletter can get you in the know about campus activities and resources.
Helpful Websites
Play around with our Success Toolkit. The toolkit is a hub for various resources and updates around campus. It is designed to help you navigate buildings and public spaces, find community (both in person and virtually), and discover the many Student Affairs departments that provide services and support for students.
Keep checking your CalCentral account for important tasks and messages. Especially for the newest Golden Bears, the tasks and messages in CalCentral will help you complete important deadlines before you show up on campus. Every new academic year there are tasks to complete for financial aid that appear in the "Tasks" section and reminders such as taking the Student Pulse Survey.
Tune into fun and your creativity with ASUC Student Union activities. Shop, eat, have fun, find free events, and book spaces on campus for activities. Don't miss out on Destress Fest this year (during RRR week).
Discover ways to stay active and healthy with extensive Rec Sports fitness and wellness programs and online classes and resources. This includes everything from nutrition services and fitness workshops to intramural sports and active outlets around Berkeley.
Connect with private and personal support from the PATH to Care Center. They provide both confidential and urgent support. For broader medical and health resources, access University Health Services (UHS).
For essential non-academic support access the Registrar's resources and support for staying enrolled to find the care you need.
Visit the Basic Needs Center interactive dashboard for announcements, events, and campus community opportunities.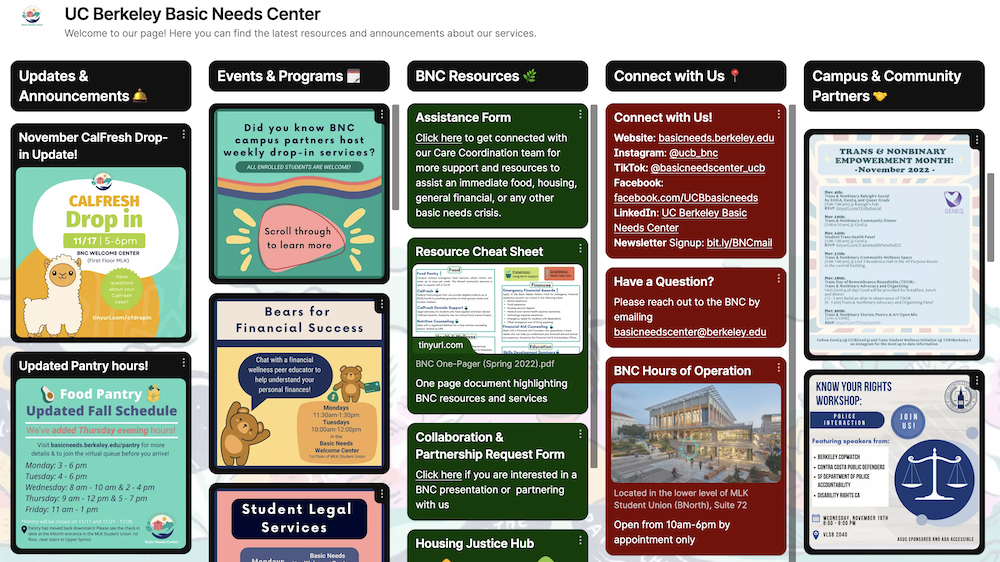 Social Media
Follow a campus organization's social media account. Many campus organizations have social media accounts, another great way to find out about upcoming events and deadlines. While not a complete replacement for the email updates, these are a good alternative to staying updated about the organization. On any UC Berkeley service website, scroll down to the bottom banner for links to social media accounts. Below are a handful of accounts to consider:
If you're looking for a specific account, either a club or other campus-affiliated organization, check their website or Callink. Social media handles are usually linked there.
I hope this post helped you discover new resources for staying in the know. I encourage you to check your email regularly, subscribe to newsletters, and get connected with what matters to you.
Melissa Mora-Gonzalez is a second-year student at UC Berkeley majoring in English.