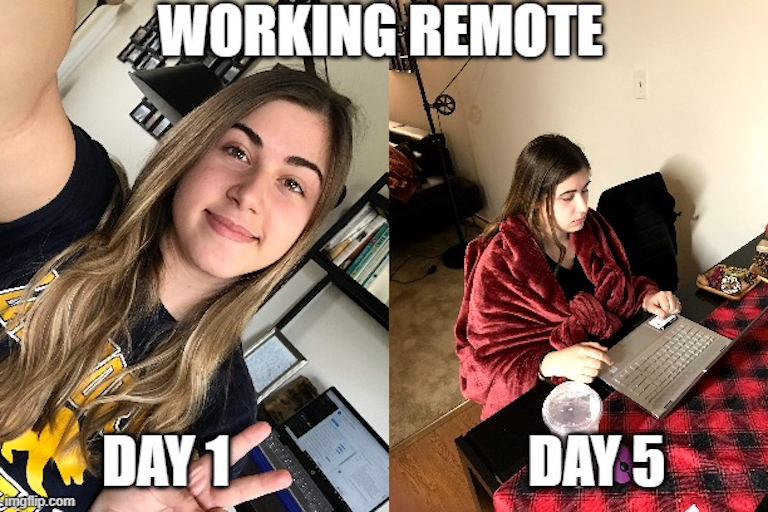 Career Center Tools to Help You Find a Job
In the midst of a global pandemic, social distancing made it so people were less physically connected to their work environments. Getting a job is already tough.
Despite these challenging times, as a Berkeley senior (Class of 2021), Elda Pere found a way to land a fulfilling job through UC Berkeley's Career Center job search platform, Handshake. 
A data science major, Pere worked from home in Garfield, N.J. as a data analyst for the San Francisco-based company ViviendasLeón, a nonprofit that aims to combat poverty by teaching self-sufficiency in rural Central American communities. Through her work, Pere analyzed incoming data from volunteers in Nicaragua and Guatemala to help make the nonprofit's processes there more effective. She gained skills in farming and climate data, program success surveys, social media analytics, and website management. 
"I chose this organization because I believe in their mission and I believe that I can make a difference in the lives of Central American families through them," said Pere. "They are in the same field that I want to gain experience in, and the sustainability approach for rural families is one that I agree with and would like to be a part of."
While, in true Berkeley spirit, Pere's work is making a difference in the world, the road to land that job was no cakewalk. To help prepare for her job search, Pere said she put in the work to bolster her resume and cover letters, editing through those application items with a fine-toothed comb nearly 50 times for every job she applied to.
Pere, who is admittedly nervous when it comes to job interviews — whether they are in person or not — said she also had a personal secret to help her get over those butterflies. 
"I blast 'La Bamba' by Ritchie Valens a couple of minutes before it begins," she said. "Then, I gather prints of previous projects that I can explain during the interview, and a notepad with previously written questions for the interviewer. And finally, I hope for the best and click 'Start meeting'." Asking questions after an interview is also a great way to show your interest and how prepared you are.
When asked about tips or recommendations for other job-seeking students, Pere said it's important to give yourself options and "apply to almost everything that comes your way." 
"Lots of companies are posting positions for both remote work and in-office work," she added. "Flexible opportunities are out there for all skill sets and interests."
Elda Pere is an author and Jack Kent Cooke scholar studying Data Science at UC Berkeley.