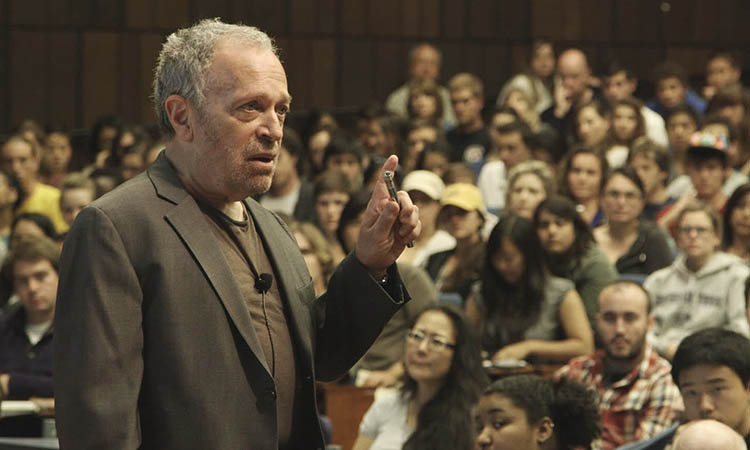 Discovery Courses Can Change Your Life.
It wasn't until her third year at Berkeley that computer science major Elicia Ye learned about the University's fascinating Discovery Courses.
Taught by some of the most distinguished professors on campus, these Seven-Course Breadth classes are destined to be transformational, fulfill class requirements and help students explore outside their major and cover topics in Arts & Literature, Biological Science, Philosophy and Values, Physical Science, and Social and Behavioral Sciences.
Want to find out more about Physics and Music? Bio-inspired Design? Archaeology of Sex and Gender? No matter what your major, you can enroll and learn from the masters.
Human Happiness
Each week in the course, Ye learned about different philosophical perspectives and practiced exercises that have been scientifically correlated with happiness. She credits the class for teaching her to take a step back, self-reflect and actively practice happiness at least once a day.
"We live in a world that everything moves so fast and it's not habitual for people to take a step back and enjoy what's around us," Ye said.
Now, Ye is encouraging all students to explore Discovery Courses and find the class right for them. Whether it be Human Happiness, The Bible In Western Culture, Physics In Music, Earthquakes In Your Backyard or the popular Wealth and Poverty, there are courses for everyone.
How transformative are Discovery courses? One student created ChronoZoom, a zoomable timeline for so-called "big history" — the overarching term for all of history, both humanistic and scientific, from the cosmos to the present — as part of a Discovery class project.
How to sign up
This semester there was even an assortment of new courses added including Moral Provocations: Abraham Moses and Job, Introduction to Art: Renaissance and Ideas of Education.
And, luckily, signing up for Discovery Courses is no different than all other classes. On April 26 when Phase 1 enrollment begins for all continuing students, make sure to look for the corresponding Letters and Science numbering system. (Every Discovery Course has an L&S course number, and many are cross-listed with the home department of the instructor.)
But, Ye recommends acting quickly because some of the popular Discovery Courses fill up on the first day of enrollment. So, get going Golden Bears, and find the exciting course outside your major that will help you explore new ideas.
Mathew Miranda is a first-year graduate student at the School of Journalism. Featured image is faculty member and American economist Robert Reich teaching L&S C180U Wealth and Poverty.