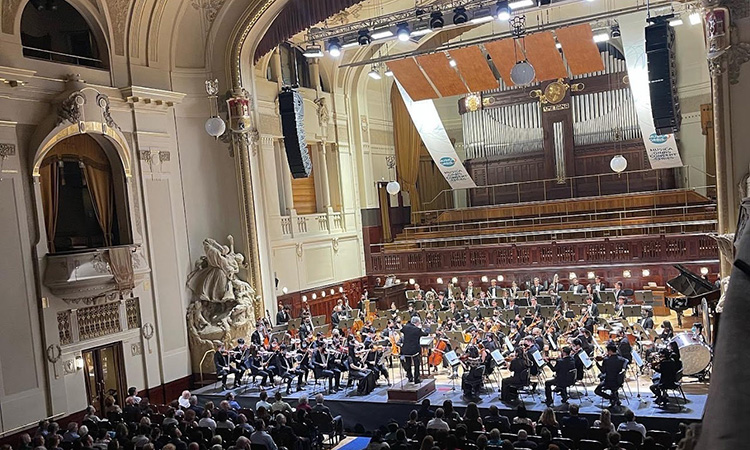 Traveling with Berkeley Symphony Orchestra & More
4 cities. 9 days. More than 70 musicians. After a two-year delay due to COVID-19, the UC Berkeley Symphony Orchestra was finally able to embark on its Europe tour in Prague, Vienna, Bratislava, and Budapest, playing in some of the greatest music halls ever built. As someone who has been involved in music my entire life, this was a dream come true for not only myself, but for every musician that I was blessed to have performed alongside; after all, we were playing in epicenters of arts and culture, the birthplaces of classical music. I joined the orchestra the previous year as a sophomore, overjoyed at the opportunity to be able to play both in person in such a large ensemble for the first time since the pandemic began, but also in such a profoundly talented symphony.
After the tour, I was able to travel to the Netherlands to stay with one of my closest friends, seeing firsthand how incredible the UC study abroad program is. I finished my month-long journey in France and Italy with my sister, who is now beginning her freshman year at UC Berkeley. The only other time I had ever been to Europe was with my high school youth orchestra on our own tour prior to the beginning of covid, so spending a whole month traveling felt absolutely surreal, an experience I had never thought possible. With the orchestra's amazing financial aid program and my savings from work, I was able to make this trip a reality. This once-in-a-lifetime opportunity was one of the greatest months of my life and left me even more excited for studying abroad for the fall semester.
UC Berkeley Symphony Orchestra Abroad
The UC Berkeley Symphony Orchestra (UCBSO) is composed primarily of undergraduate and graduate students with help from local community musicians. While some are music majors, the majority of the symphony are students who just love to play classical music — I personally am part of the latter group. Most had auditioned as freshmen after years of playing in their own respective youth symphonies or high school music ensembles; as such, the transition to a university ensemble like UCBSO or other music groups was expected.
I personally have been involved in music for as long as I can remember, officially delving into classical music my junior year of high school when I joined my local youth orchestra after years of only playing jazz and contemporary. However, I was dissuaded from pursuing music in college due to the Covid restrictions: I couldn't bear to continue music over Zoom for yet another school year. I regretted my decision the entirety of my freshman year and was thrilled when I was able to join the orchestra the fall of my sophomore year. After a year of arduous rehearsals and some of the most difficult repertoire I have ever played, I was lucky enough to not only be able to perform in UCBSO's performance season, but also attend the esteemed ensemble's summer tour.
I knew few other members outside of my instrument's section due to my limited time with this particular orchestra, but I spent an abundance of my time abroad getting to know the diverse, eclectic, and overall wonderful community that is UCBSO. From sightseeing tours to exploring the four different cities, frequent rehearsals to playing in some of the most famous venues in the world, I quickly connected with numerous members of the orchestra. I asked my new friends what brought them to participate in the orchestra: a creative outlet, a means of self-expression, a community outside of an academic setting, a way of communicating both to one another and to an audience. The overwhelming consensus was quite a simple one: UCBSO was the perfect place to have fun while also creating something beautiful. Despite the symphony being composed of so many different characters (doctoral candidates, freshman who still were figuring college out, recently admitted Haas students, aspiring physicists, and future conservatory musicians), there was a deeply rooted sense of community founded upon our common love of music.
My experience with UCBSO was truly unforgettable: from playing Mahler's Fifth Symphony in the Musikverein and raising funds for local Ukrainian refugees with each ticket to our four sold-out concerts, to staying up until sunrise with some of my new favorite people after exploring a new city and hearing the ambitions of some of the brightest minds I have ever met
Adventure Afterwards
I flew from Prague to Amsterdam immediately after the tour to stay with one of my closest friends, Fiona, in Utrecht, Netherlands. At this point, I had already accepted my position in the Human Rights and Cultural Memory Program in Buenos Aires, Argentina and Santiago, Chile. As someone focusing on peace and conflict in South America and studying Spanish, this particular University of California Education Abroad Program (UCEAP) was a perfect fit. Yet, I couldn't help but be nervous about spending so much time away from home in two cities I had never been to with a group of new people.
Seeing Fiona in her new environment eased all my anxieties; I had not expected her to be so comfortable despite being so far away from home. Fiona loved her new university, new friends, and new home more than she thought possible. She even told me how bittersweet it was to come back to Berkeley because of how much she loved her time abroad. We now frequently discuss the idea of moving to the Netherlands together after college.
Fiona highly recommends her program in Utrecht and summarized her feelings: "study abroad [has been] an incredibly impactful and invaluable experience because it broadened my global perspective and understanding of life in the US by introducing me to different lifestyles and cultures. It also afforded me a new level of independence and allowed me to explore incredible new places and make amazing friends!"
I ended my journey with my younger sister on a five-day exploration of Paris and more than a week taking the train all over northern Italy to visit Rome, Florence, Venice, and Rimini. This trip not only showed me the transformative, therapeutic properties of traveling with people you love, but also solidified my internal decision to spend my fall semester in South America. Although I'll miss the music program at Berkeley for the semester, I plan on bringing my electric bass to join music programs in Argentina and Chile! My time outside the United States and my glimpse into the typical day of a UCEAP program participant like Fiona replaced my initial anxieties over my own study abroad with an overwhelming sense of eagerness. I'm more excited than ever to go experience an abundance of new countries and cultures, ways of living and learning, and my semester in South America.
If you're interested in experiencing your own summer abroad adventure, check out Berkeley Summer Abroad programs.
Kelsey McIvor is a junior at UC Berkeley majoring in Global Studies and minoring in Spanish and journalism. Featured image Photo provided by UCBSO. All other images were taken by Kelsey McIvor.