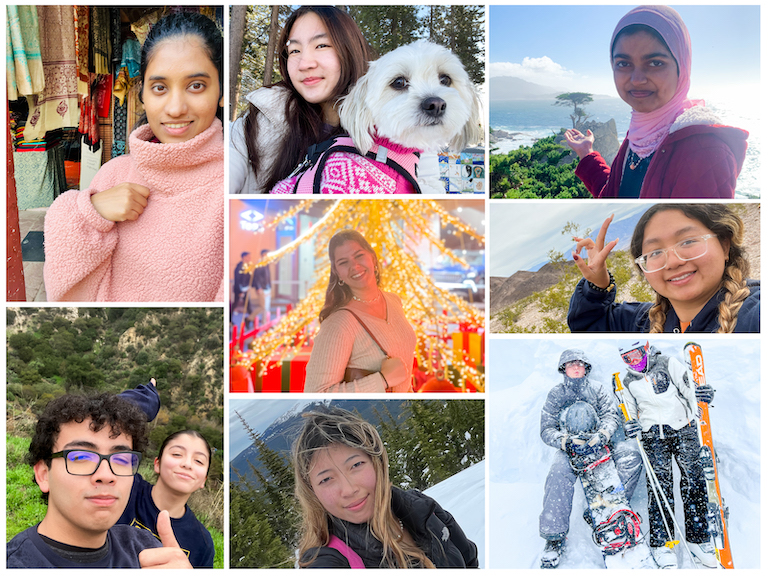 Much Needed Vacation Time
This winter break, fellow Golden Bears traveled far and wide to achieve some well-earned relaxation. New sights, new experiences, and even going back home with a new perspective marked these students' winter break. With some R & R behind them, these students are looking forward to tackling the spring semester.
Adventures!
Many students took winter break as an opportunity to explore beyond home.
Kelly explored a myriad of beautiful places and she hopes to keep that traveling spirit with her returning back to Berkeley.
"I traveled with my parents to Spain (Malaga and Granada), Morocco (Casablanca and Marrakech), and Turkey (Istanbul, Cappadocia, and Antalya)… making memories with my parents, meeting up with old friends, shopping for new clothes, exploring restaurants in different countries! (I'm looking forward to) seeing my friends from Berkeley again, meeting more people, hopefully traveling more with friends, new classes!" – Kelly T., Class of 2024, Political Science
Jasmine had a fun, busy schedule over winter break. She's looking forward to taking design classes this spring.
"(I) celebrated Christmas and my sisters birthday in palm springs, visited San Diego, went to a new year's eve rave (countdown!) in Orange County, and snowshoed up Mirror Lake in Oregon with a view of Mt. Hood with my dad!!" – Jasmine W., Class of 2024, Business Administration
Howard hiked all over Arizona.
"I learned about the canyon's (Horseshoe Bend's) history and how those amazing scenery formed because I am an architecture student who is also interested in landscapes."
– Howard C., Class of 2023, Architecture
Lily hit the slopes with her family and she's anticipating a great spring semester.
"I was lucky to get to go skiing with my brother! We went to mammoth during a crazy blizzard and it was definitely a challenge, but made for great memories. I'm looking forward to my classes and making more memories with friends!" – Lily C., Class of 2026, Environmental Science
Exploring California
Sometimes you don't need to go very far to have a great vacation. Whether it's returning home or exploring the state for the first time, here are some ways students have taken advantage of the great state of California.
Khulan stayed with her family in South Lake Tahoe, and also experienced some other highlights as well. Coming back, she's looking forward to expanding her horizons at Cal.
"During winter break, I spent time with my family in the snow and also had the opportunity to perform at the Warriors vs. Hawks pre-show at Chase Center! I am looking forward to meeting new people in my classes and trying new foods on/off campus!" – Khulan M., Class of 2026, Microbiology
Ruby (Yen) explored all over California, specifically Orange County. In the new year, she's hoping to form new friendships.
"I hope to make more friends and create new amazing memories with them."
– Ruby (Yen) H., Class of 2024, Chemical Biology
Ainsel spent time at home doing all of their favorite comfort activities like listening to music and drawing. They are also doing community service and are looking forward to moving past gloomy weather into sunnier days.
"I'm listening to Spotify and drawing my favourite characters. I'm volunteering at a soup kitchen and helping some friends design their apartments in San Francisco. (I'm looking forward to) the greenery. I feel like the grey skies are making me less productive in everything."
– Ainsel F., Class of 2026, Architecture
Ana attended the "black mafia family" season two premiere in Hollywood and visited friends and family in her hometown of Long Beach, California. She's looking forward to becoming more involved in extracurricular activities this spring semester.
"(I'm looking forward to) making new memories & joining more clubs!" – Ana G., Class of 2026, English
Asbah visited Pebble Beach with her family, went ice skating, and cooked. She's looking forward to her spring schedule.
"(I'm looking forward to) a new set of classes!" – Asbah W., Class of 2025, Cognitive and Data Science
Christopher returned to his hometown of Sylmar, California. He's excited about diving further into his major in the spring.
"I'm relaxing by going on hikes with my dog and family. I'm looking forward to taking my first economics class at UC Berkeley." – Christopher C., Class of 2026, Economics
Family Abroad
Many Cal students are internationally connected, and as a result, are able to explore some amazing areas of their home countries.
Zeynep returned to her home country of Turkey and relished some long-awaited authentic cuisine.
"I'm spending time with family and friends back in my home country Turkey! And of course, I'm eating a lot of delicious Turkish dishes. Cannot come back home without delving into my mother's excellent cooking." – Zeynep E., Class of 2023, Environmental Sciences
Her spring semester marks a closing chapter of her life and the opening of a new one: "(I'm looking forward to) graduating! It's a little bittersweet though. Don't want my Berkeley journey to end since I've been enjoying myself immensely, but at the same time I'm ready for the next step of my life." 
Madeline went overseas to visit Japan and spend time with family in Indonesia.
"I traveled to Japan with my family and visited Indonesia to see all my relatives!"
– Madeline I., Class of 2023, Business Administration
She's looking forward to completing her final semester before walking the stage: "I look forward to finishing up my last set of classes before graduation!!"
Jacqueline traveled to Mexico to reconnect with family.
"I spent my winter in the state of Mexico and Guanajuato especially in Ecatepec and Acambaro… to visit my family. I'm relaxing by spending time with my family that I only get to see once a year and by eating a lot of yummy food!" – Jacqueline R., Class of 2024, Conservation and Resource Studies
She's focused on finding more professional experience aligning with her major during her spring semester: "I am looking forward to making new friends and gaining more research experience in the spring."
Carolyna visited her dad's hometown of Michoacán, Mexico. She's excited to reconnect with her friends this spring.
"I'm looking forward to spending my last semester with my friends at Cal!" – Carolyna S., Class of 2023, Business Administration
Amba returned to her hometown of Delhi, India and thought of her experience thus far in the states. She's excited to explore California more during the spring.
"Spend time with myself – reflect on my first few months abroad, the experience, and how to integrate my experience with home. Being on the opposite side of the planet, all I longed to do was spend time with my family and friends." – Amba G., Class of 2024, City Planning
Onto the next semester!
Whether it's relaxing at home with family, traveling abroad, or going on local and international adventures, these Golden Bears took advantage of winter break. After taking some time to reflect and decompress, they are ready to ace their new semester and make new memories back in Berkeley.
Preslee Vanlandingham is a third year at UC Berkeley majoring in English.