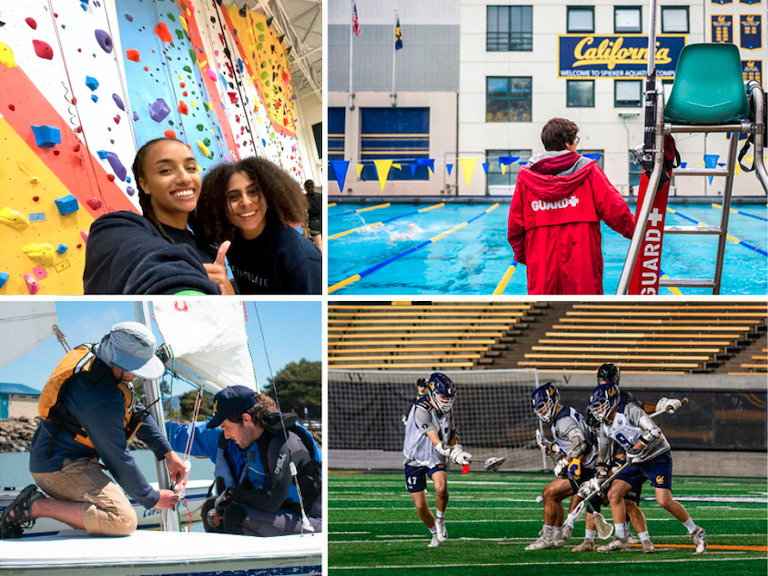 Let's Get Moving
Being physically active, in any way you enjoy, is vital to balancing your health throughout the academic year. If you're ready to get moving at UC Berkeley, check out these resources and opportunities.
Campus rec facilities and class offerings
There are multiple recreation locations available to Berkeley students thanks to Recreation & Wellbeing (RecWell). All you need is your Cal 1 Card to enter the facilities. On campus, there is the RSF (Recreational Sports Facility) with cardio equipment, weight rooms, stretching rooms, and many other offerings. The RSF opens at 7 a.m. on weekdays and 8 a.m. on weekends. Stay as late as 11 p.m. every night except Saturday, when it closes at 6. There are locker rooms, including universal locker rooms, in the back of the RSF, and you can borrow a lock for the day from staff.
Other RSF features include basketball courts and volleyball courts for pick-up games or practice, available to all students during "open rec" (i.e., free play). Try your hand at racquetball or squash, with courts open daily (by reservation), or explore scheduled group exercise classes such as pilates, yoga, and HIIT. Certain classes, such as cycling, require you to reserve your space.
If you don't want to go to a physical location, RecWell offers online classes as well. For more specialized attention, you can also explore personal training offerings.
For a longer commitment, take any of the six martial arts class series as part of the Martial Arts program—you can try the first class free to see if you enjoy it.
Don't forget to check out RecWell's new climbing wall located in the field house at RSF. Here are the open climbing hours. If you want a crash course on all things climbing, there are class offerings as well.
Activities and facilities extend outside the walls of the RSF. There are three pools with open lap swims at Spieker, Golden Bear, and Strawberry Canyon Pools. There are open tracks for runners at Edwards Track, and tennis courts you can reserve up to 72 hours in advance (one hour a day per person). For fitness options on weekdays, there's also the Memorial Stadium gym open 10 a.m. to 8 p.m.
View this post on Instagram
Cal Sport Clubs
Berkeley has a variety of competitive sports clubs. From volleyball to badminton, there's a high chance that there's a team that matches your interests. Many of which invite a range of skill levels, and require trying out and paying club dues. Some are co-ed while others have men's and women's teams.
Berkeley Recreation & Wellbeing Adventures
The Adventures program allows students to have fun around the Bay Area, especially down at the Berkeley Marina. Paddleboarding, kayaking, and windsurfing are just a few of their offerings. There are introductory courses for all of their activities. Students get a major discount, averaging $25 for two days of instruction including equipment. Once you have the foundational skills and are approved by a course instructor, you can rent equipment from the UC Aquatic Center at the Berkeley Marina. Rentals are on a reservation basis during their open hours.
View this post on Instagram
If you want to do some exploring on your own, you can also try self-guided tours of various wilderness parks and lookout points. From Albany to Treasure Island, get a feel of the Bay Area.
Alternative Options
Curious about how to get active outside of what Cal offers? There are tons of trails and gyms surrounding campus such as the super accessible Fire Trails. You can also hop on the 67 bus by the Berkeley BART Station (Allston Way & Shattuck Ave) up to Tilden Park. Mosaic Climbing down Telegraph Ave is a popular climbing gym for students and there are yoga studios downtown such as Funky Door and CorePower.
Go for it!
Whether you want to go on an outdoor adventure, take a yoga class, or join a club team, exercise is a positive addition to your schedule. Take some time for yourself and your health with all that the campus and the Bay Area have to offer.
Preslee Vanlandingham is a fourth-year at UC Berkeley majoring in English and minoring in creative writing.

Want More?