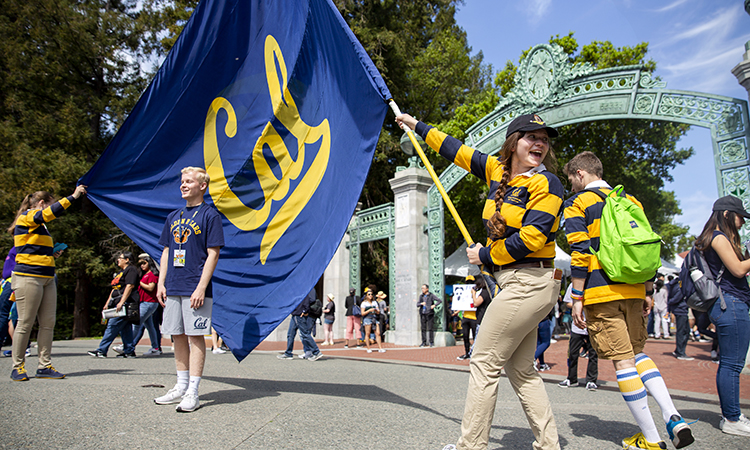 Learning the Berkeley lingo.
Croads. EECS. And, my personal favorite Berkeley Time (since it's something that is unique to the Berkeley experience).
As a new student, understanding Berkeley lingo as soon as you walk onto campus can be difficult. So, instead of guessing what every acronym or phrase might mean, here is a list of some common Berkeley phrases.
ASUC: "ASUC" stands for the Associated Students of the University of California and is the officially recognized student association at UC Berkeley.
bCourses: "bCourses" is the main webpage that most classes use for you to submit assignments and look at materials. Think of it as Google Classroom for college students.
Berkeley Time: Almost all events on the UC Berkeley campus, like lectures and club meetings, start on "Berkeley Time," which is 10 minutes after the hour. So, if you have a lecture at 9 a.m., it actually starts at 9:10 a.m. This guideline is put in place so you can schedule classes and meetings back to back without being late. When it comes to being a busy Berkeley student, it is definitely a saving grace and helps you plan more in your schedule.
Cal: "Cal," short for California, is the university's iconic athletics brand that generates pride and passion among legions of sports fans. Apart from scoring victories in national sports arenas, Cal's student athletes consistently bring home Olympic medals: 17 from the 2012 London Olympics and 21 from Rio in 2016. The term Cal is also used as a term of endearment and pride for the university, especially by alumni and students. The University got this nickname because we were the first university in the UC system.
CalCentral: "CalCentral" is the main website that Berkeley students use to track their financial aid and loans, units and degree progress, and anything administrative that is tied to the university.
Cal Day: "Cal Day" is a day (usually in April) when Berkeley opens up the campus to the public and showcases events for prospective students and admitted freshmen. During Cal Day, each department usually holds a ton of informational events, and clubs have performances so prospective students can get a glimpse of life at Cal.
Cal Student Central: "Cal Student Central" is the office that helps students navigate several student-facing departments at Berkeley, including the Financial Aid and Scholarships Office, Office of the Registrar, Accounts Payable, and Billing and Payment Services. The office is located in Sproul Hall, which is the main building up the Sproul Plaza-facing steps.
Croads: "Croads" is a nickname for Cal Dining's Crossroads, which is one of the main dining halls near campus by Unit 2.
EECS: "EECS" (pronounced EEKS) stands for Electrical Engineering and Computer Science majors. During your time at Berkeley, you are bound to meet a ton of EECS majors so it's good to know the acronym right away.
FSM: "FSM" stands for the "Free Speech Movement" which started in Berkeley with a group of college students who, during the 1960s, challenged campus regulations limiting their free-speech rights. Named after the "FSM" is the Free Speech Movement Café, conveniently attached to Moffitt, one of the main libraries here on campus.
GSI: A "GSI" is a graduate student instructor who usually leads the discussion sections for classes, holds office hours so you can ask questions about course content, and grades assignments and papers.
I-House: "I-House" is a multicultural residential living and learning center of nearly 600 students and scholars from 70+ countries, including the U.S.. Their mission is to foster intercultural respect and understanding, lifelong friendships, and leadership skills for a more peaceful world.
Lower Sproul: "Lower Sproul" is located near Zellerbach Hall, home of Cal Performances, down the staircase that is attached to Upper Sproul.
L&S: "L&S" is an acronym for the College of Letters & Science at UC Berkeley. The majors in L&S bridge the arts and humanities, social sciences, and natural sciences, with majors such as English or Chemistry, making it the largest college at UC Berkeley. L&S has different requirements to graduate compared to other colleges like the Engineering department, so make sure you plan your four-year class schedule accordingly if you are in that college.
MLK: This acronym stands for the Martin Luther King Jr. Building located on the edge of campus near Sproul. MLK houses the student union, eateries, the Student Store, and an Amazon Hub Locker, among other important spots.
Oski: "Oski" is Berkeley's pride and joy and the best college mascot we could have! If you happen to see him at any sports event or even on Sproul, you should definitely take a picture with him.
RSF: The "RSF" is an acronym for the Recreational Sports Facility on campus. The building is located on Bancroft way near the Haas Pavilion and has a ton of gym equipment for you to use. There are a lot more resources in the RSF than students might know about, which is why we have written multiple articles on the RSF.
SOCS: "SOCS" is the Social Sciences Building in Berkeley, located near the Hearst Gymnasium.
SF: "SF" is an acronym for San Francisco, which is located only 30 minutes away from campus.
Tabling: On Sproul, clubs usually hand out flyers or have fundraisers to promote themselves, which is commonly referred to as "tabling".
The Axe: Every year, the Cal football team goes against the Stanford football team in what is referred to as "The Big Game." Whoever wins the Big Game receives "the Axe" to show their victory. Currently, Cal has had the Axe for two years in a row! (Check out the Big Play from 1982.)
The Glade: "The Glade" (aka Memorial Glade) is the huge patch of grass outside of Doe Library. Since it is the size of a small park, many students like to sit there, toss frisbees, enjoy the sun, or even lay down on the grass for a small nap.
The Units: The residence halls on campus are commonly nicknamed "the Units". There are three units on campus named Unit 1, Unit 2, and Unit 3. Foothill and Clark Kerr halls are a little bit further away from campus and are sometimes referred to as Unit 4 and Unit 5.
Upper Sproul: One of the main sections on the south side of campus is Sproul Plaza or "Upper Sproul", located near Sather Gate.
VLSB: This acronym stands for the Valley Life Sciences Building, located on Harmon Way and home to Osborn, UC Berkeley's T. rex specimen, which is about 90% complete, only missing a few bones from the tail.
Since this isn't a comprehensive list, if you have more Berkeleyisms you use in your daily life in Berkeley, tag them at @UCBerkeleyLife. #Berkeleyisms
Samantha is a recent graduate who majored in English and minored in Journalism and Creative Writing.
Want More?