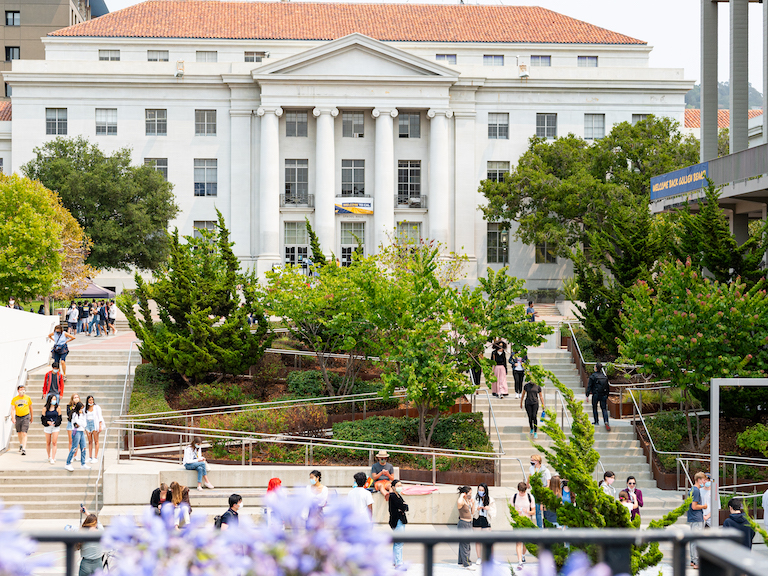 Learning in Honor of Disability Awareness Month
October is National Disability Awareness Month and I took the opportunity to learn more about how Berkeley has been a pivotal hotspot in the Disability Rights Movement. I wasn't aware of the history Berkeley has in the Disability Rights Movement until I first learned about it in a DeCal, Discourse at Berkeley, which opened my eyes to the significance of Berkeley's role in the Disability Rights Movement. (DeCal classes are courses taught by students for students on all kinds of topics, and they can be a fun way to meet students and earn an extra unit or two outside of coursework for your major.) 
Here are some key figures and events to enrich your knowledge of how Berkeley students make history. 
Ed Roberts
Berkeley's involvement in Disability Rights began with Ed Roberts, the first student enrolled to be dramatically impacted by a disability. In 1962, Roberts was the first student to attend Berkeley who relied on a wheelchair to get around. UC Berkeley did not have adequate resources to support him. The accommodations lacked beyond the classroom and also affected housing for Roberts. 
In order to live independently and attend classes on campus, Ed Roberts moved to a room in the Cowell Hospital, which was Berkeley's student health center at the time. His attendance at UC Berkeley inspired other disabled students to enroll at UC Berkeley.
The Rolling Quads
In 1967, twelve students with disabilities enrolled at Berkeley. This group of students became known as the Rolling Quads. The Rolling Quads, including Roberts, soon became disability rights organizers and change was upon Berkeley. In 1972, these students joined with community members to form the Center for Independent Living or TheCIL, a nonprofit organization still thriving in Berkeley.
Accomplishments of the Disability Rights Movement
One of the most notable accomplishments was the establishment of the Physically Disabled Students Program (PDSP), which was later renamed Disabled Students' Program (DSP). The renaming of PDSP to DSP came about to include those with learning disabilities. DSP is still active today and what started as a program that served 800 in 1992 now serves 1,600 as of 2019.
Berkeley also implemented curb cuts, a design motivated for accessibility purposes. The Rolling Quads worked with Berkeley City Council in 1971 to make this happen, and the first curb cut in the nation was on Telegraph and Bancroft!
Berkeley Today
Berkeley is known for its rich history, with one of the most notable movements to take place here being the Disability Rights Movement. Ed Roberts and the Rolling Quads inspired disabled students to advocate for disability rights at Berkeley and all over the nation. Their efforts led to the development of the Disability Access and Compliance at Berkeley, which supports a university environment accessible to all people, regardless of their relative level of ability and provides many resources for students and the entire campus community. Advocacy for disabled students at Berkeley has even extended all the way to the floor of the U.S. Senate by a student who is now an alum and staffer, Ann Wai-Yee Kwong.
These are only some of the most notable moments of the Disability Rights Movement. Berkeley today still strives to make itself accessible and to advocate for disability rights. Berkeley has implemented priority enrollment, hired note takers, and more. You can also find classes that focus on the topic, like the Literature and Disability class shared in another Berkeley Life story. 
If you're interested in learning more, the DSP website includes details about the history as well as resources and services provided to assist the disability community.
Dixie Valle is a senior at Berkeley majoring in political science.