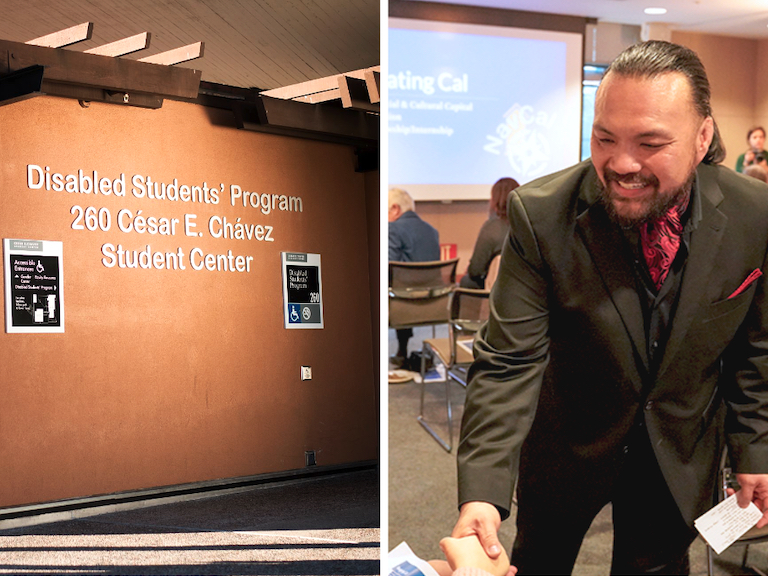 Meet Tristan and Discover Campus Resources
If you've ever felt like you're struggling in academics or physical spaces at UC Berkeley—or if you want to help others achieve with their education—you may benefit from these resources. I had the chance to interview Tristan Soto Moreno, a junior studying political science, to learn more about his experiences as a Cal student involved in the DSP and NAVCAL programs.
The Disabled Students' Program (DSP) is committed to creating an inclusive environment for all students — undergraduates and graduates — with disabilities. Tristan started out as a note-taker for DSP before applying for it. He reflected on how the NAVCAL program taught him how to find resources on campus and utilize them. This is a story about Tristan's journey and how these two programs continue to help him succeed at Berkeley.
How has your experience in the NAVCAL program impacted your journey at Berkeley?
"The program is intended for incoming students with the intention of teaching them how to navigate a new school. I joined later in my academic journey, during my fourth semester. Even though I knew about a lot of resources offered on campus, I still learned so much. I feel more prepared to find resources I was unaware of before.
And I'm more confident when asking for help, which was something I really struggled with before. NAVCAL tries to push you out of your comfort zone with activities designed to benefit you, such as going to office hours to speak with a professor or organizing your Gmail and Google Calendar. For certain assignments, like the office hours one, you can go with friends or other NAVCAL students so it feels less daunting. We'd also go to visit the different resource centers on campus, like the Multicultural Community Center, and ask them what kind of resources we can find as low-income students."
When did you first get involved in the DSP program? What is your current role within the program?
"I started out as a DSP note-taker in the spring of my second year. Now, I work for the DSP program as a furniture mover. I provide accommodations for students who might need things like a wheelchair-accessible table, comfortable chair, or even [a chair with] more legroom for taller students. These all fall under the DSP umbrella of accommodation. It's a really cool job!"
What are some resources DSP provides for the campus community that students may not be aware of?
"DSP offers a wide variety of support and resources for students. This can be physical support like accessible tables and chairs, or academic support like exam accommodations. You can get help in many areas; it's just about asking and figuring out what's best for you. A nice perk is getting priority enrollment so you're less stressed when enrolling for classes. I personally have a 150% time increase on my exams and a no-distractions accommodation. I can also take notes through special software that records for me, which is very helpful. And the best part is — you are set up with a DSP Specialist who helps you figure out the best accommodations for you so you don't undergo the process alone."
How did you apply for the DSP and NAVCAL programs?
"I didn't know about NAVCAL until I learned about it during the Solidarity Spring Program, an alternative spring break experience through the Labor Center during the spring semester of my first year. A student who was also in NAVCAL told me about it. I applied for NAVCAL that next fall semester, but I was waitlisted due to scheduling conflicts. I applied again later on and was put into the spring cohort! It was a really easy application process and I'm glad I kept trying.
It was actually through NAVCAL that I applied for the DSP program, and they supported me during the application process. NAVCAL taught me how to ask for help; I think primarily, I was trying to find a diagnosis for what I was struggling with. I struggled with focusing in class and it would take me longer to do my readings. NAVCAL recommended I call a specialist to set up an appointment. I was diagnosed with ADHD, which made a lot of sense and answered my questions. From there, it was a matter of getting documentation for DSP, which requires some form of verification for the program. You can learn more about the application process on the DSP application page."
How can students get involved in these two programs as volunteers or interns?
"If you'd like to be a NAVCAL participant, keep an eye on the NAVCAL Instagram and NAVCAL website to see when the next fellowship applications open (typically a few months before the start of a new semester). The program is a class taken for units. Submit the application when the time comes, and consider emailing them that you're interested in becoming a participant. You can also be an intern for groups of students as a mentor after you have participated in the NAVCAL program.
For DSP, consider joining a note-taking program, which is a [support service] that's widely loved in DSP overall.
I recommend students seek out these types of programs and find these resources, no matter where they are in their journey here at Cal."
Melissa Mora-Gonzalez is a third-year student at UC Berkeley majoring in English and minoring in conservation and resource studies. Feature image by DSP showing entrance to the program's office (left) and by NAVCAL showing Mac Hoang, co-founder of NAVCAL, in an April 2019 NAVCAL student celebration at UC Berkeley's Stiles Hall. 
Want More?