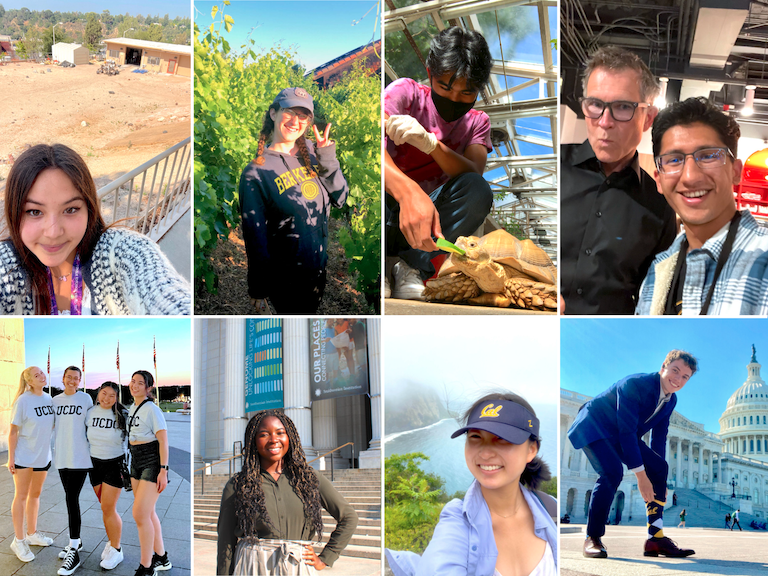 Discover What's Out There
Internships come in many flavors—and we like to share as many student stories as we can to help you aspire higher when you begin to look for an internship.
Many internships, like these, take place during the summer months when you have some extra time between sun and fun. While some students traveled abroad or participated in UC Berkeley prep programs, many pursued unique internships across the country. Here are some of their experiences to give you inspiration.
Tech Internships
With the influence of digital communication, technology plays a bigger and bigger role in our lives each day. Many UC Berkeley students pursued positions in this booming industry over the summer.
Victoria: NASA SPHEREX project
One intern in the world of tech was Victoria B., a senior majoring in astrophysics. She spent her summer immersed in systems engineering on the SPHEREx project, an observatory that will collect data on more than 300 million galaxies and 100 million stars in the Milky Way!
Interning at NASA's Jet Propulsion Lab truly sifted the lunar dust below Victoria's feet, giving her access to what she calls "the most important resource for building her career": other people. She now has connections with professionals and a better understanding of how to combine her skillset with the demands of the space industry.
Victoria found this internship by looking up companies she was interested in and applying to open positions. Prior to her work with NASA, she had no experience with systems engineering, so she emphasizes that a willingness to learn is key to your success.
Aryan: Roblox online gaming
Another student who interned in the tech industry was Aryan G. A current sophomore studying electrical engineering & computer science (EECS) and business, Aryan interned in product management at Roblox. He was responsible for a health dashboard that tracks all metrics relevant to Roblox. Aryan's work allowed him to develop several skills in the product life cycle, such as creating a marketing strategy and gathering customer feedback. It also gave him the opportunity to network with dozens of people—including twenty other interns from Cal!
Aryan found his internship through one of the career fairs at UC Berkeley. The application process consisted of an online assessment (CodeSignal), a cognitive skills assessment, and interviews. This semester, Aryan is attending lots of info sessions and networking events for companies that, like Roblox, embody the notion of being product-driven.
Natural Resources Internships
Given UC Berkeley's history of activism, it's no surprise that student commitment to environmental justice is strong. This summer, we had several Golden Bears involved in sustainability-based research internships in the natural resources field.
Larissa: Sacramento Municipal Utility District
One research intern was Larissa Y., a freshman majoring in cognitive science. She interned at the Sacramento Municipal Utility District (SMUD) in the Sustainable Communities Department. As a member of the Data & Metrics team, Larissa analyzed data to understand the direct impact of SMUD's partnerships with local community organizations in sectors such as Health Equity, Economic Development, and Education.
Larissa's internship kindled her interest in data science, influencing her to take a Foundations of Data Science class this semester. It also taught her about the importance of having a passionate community of coworkers. One of Larissa's biggest takeaways from this summer is that "a supportive and encouraging work environment makes all the difference."
Hillary: Lawrence Berkeley National Laboratory
Another intern in the natural resources field was Hillary K., a freshman majoring in chemical engineering. She interned at the Lawrence Berkeley National Laboratory through the Experiences in Research (EinR) summer program. (Note that this internship opportunity is only available to juniors and seniors in high school.) Her research focused on the solvation environment of ions. Through the navigation of various softwares, Hillary honed her computational chemistry skills.
Though she originally came into Cal as a chemical engineering major, Hillary's work with Berkeley Lab made her realize that she enjoys the world of software more than chemistry. She is now considering a career in the computer science field.
In her free time, Hillary's been exploring the brilliant Bay Area. If you're also looking to delve into the local scenery of Berkeley, be sure to read about the many fun, free activities available to UC Berkeley students.
Juan: Chinese University of Hong Kong
Juan Lucas U., a first-year studying genetics and plant biology, conducted research abroad with the Chinese University of Hong Kong (CUHK). CUHK's mission is to employ modern agrotechnology to mitigate food insecurity. As an intern, Juan was mentored in genetic editing through bacterial transformation, gene cloning, and gene amplification to create efficient crops.
This fall, Juan's been exploring the horticulture and gardening opportunities offered at Berkeley. He's also been frequenting the libraries — not to study in, but just to spend time flipping through antique books unique to the university. For those of you who have an interest in studying in libraries, take a look at our ranking of the Top 5 Library Spots on campus.
Elena: Wildermuth Lab of UC Berkeley
Our final, featured intern in the nature industry is Elena O., a senior at Cal majoring in microbial biology. She spent her summer interning at the Wildermuth Lab of UC Berkeley, conducting large-scale field trials across vineyards to examine the powdery mildew resistance of grapevines. Her team also developed a biological fungicide to protect against these pathogens.
Elena's work at the Wildermuth Lab has led her to pursue a minor in Food Systems. Her favorite class she's taken for this minor is ESPM 118, Agricultural Ecology, which she loves for its "diverse perspective created by incorporating farming practices of different cultures." After graduating in the spring, Elena hopes to continue following her passion for food sustainability and agricultural biotechnology.
Washington D.C. Internships
Lastly, many of our Golden Bears found themselves in the capital of the United States this summer.
Daniella: Smithsonian National Museum of Natural History
One intern in Washington, D.C. was Daniella L., a junior majoring in media studies. This summer, she worked with the Smithsonian National Museum of Natural History as an intern for one of their newest exhibits, Our Places: Connecting People and Nature.
In addition to learning the ropes of exhibit development, Daniella received behind-the-scenes tours of collections and met with experts from various fields such as meteorology and osteology. Her favorite part of this internship was writing the story panel for an ocean archaeologist who explores the shipwrecks of slave ships and works with Diving with a Purpose, an organization that uncovers submerged cultural resources through ocean archaeology. Daniella is continuing to expand her storytelling skills through her television studies class this fall.
Ryan: Office of Congresswoman Anna G. Eshoo
Another intern in the capital was Ryan B., a junior majoring in mechanical engineering with minors in journalism and public policy. He spent his east coast summer days interning for his congresswoman, Anna G. Eshoo. Ryan's tasks included researching legislation, authoring memos and correspondence, and engaging with constituents in the Washington, D.C. office of Eshoo. One particularly memorable part of his internship was sitting in on a hearing by the committee investigating the January 6th attack on the US Capitol.
Heeding the advice of prior research mentors, Ryan applied to intern at the offices of several members of Congress. The application process for Congresswoman Anna G. Eshoo's office consisted of an online form on her website, a few essays, and a phone interview.
With his remaining time at UC Berkeley, Ryan plans to strengthen his soft skills and his programming skills. As he quips, "Thermodynamics isn't very useful in non-engineering settings, but Python sure is!"
Paige: Office of the Supreme Court of the United States
Paige B., a junior majoring in political science and media studies, spent her summer interning at the Supreme Court of the United States (SCOTUS). Her responsibilities included leading Courtroom lectures, having a firm grasp of SCOTUS history, and working with staff members on curatorial projects. Paige's internship was provided through Cal in the Capital (CITC), a program that prepares UC Berkeley students for careers in public service. (Note that the CITC application deadline for the following Summer is around the end of September each year.)
This semester, Paige is furthering her interest in the legal field with her Supreme Court and Public Policy course. Outside of classes, she's serving as the Assistant Director of the Student Legal Clinic and the Tournament Director of California Mock Trial.
Finding Your Own Internship
Every year, dozens of Berkeley students receive a first-hand look at their intended career field through internships. As you've seen from the stories above, internships are available across all majors, passions, and grade levels. There are always internships hiring somewhere, but keep in mind that many companies offering summer internships recruit the previous Fall, so if you can, start thinking about your summer plans early.
While applying to these positions can be daunting, especially as an underclassman, Cal has a plethora of resources to help you.
The Career Center offers both counseling appointments and career fairs and forums, and Berkeley Life has a compiled list of valuable tips on preparing for internships as well. If hearing student accounts sparks more inspiration, read our article on searching for jobs and internships to see how Elda, Kaycee, and Martin found their positions.
Best of luck, Golden Bears!
Nina Takahashi is a first year student at UC Berkeley.