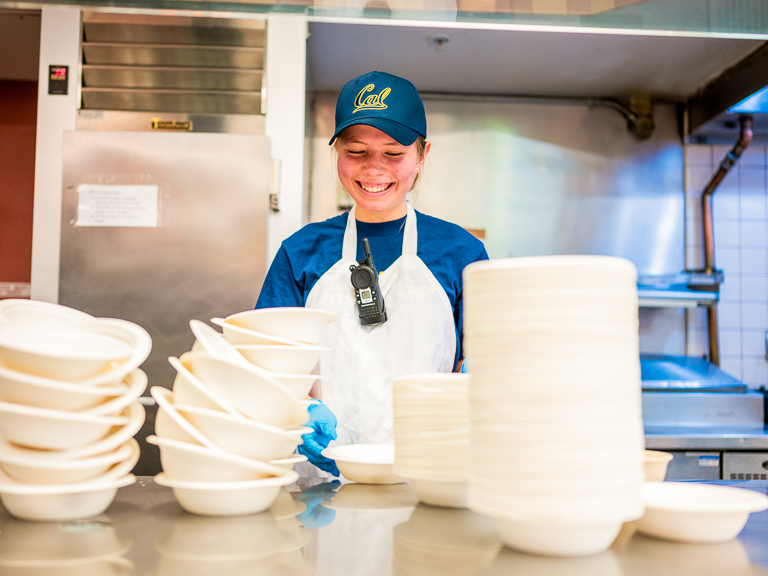 Gain Career Experience Through Work-Study
If you qualify for Work-Study, this blog is for you! If you qualify but are not too familiar with what work-study jobs are or how to go about applying, I'd recommend checking out Work-Study Jobs: How to Apply first and then coming back to read this one. Work-Study is more than a type of financial aid — it can become a way for students to gain relevant career experience.
Who offers work-study jobs?
A wide variety of departments offer work-study jobs for undergraduate and graduate students, both on and off campus (for a full list of off-campus employers, check the Work-Study website). Campus departments like Admissions, BAMPFA, CalDining, Housing, the libraries, Public Service Center, Recreation & Wellbeing, and Student Affairs (that's our department!) are usually hiring year-round with lots of positions for students. Strengthen your odds of getting hired by applying for a job within one of those departments. Many of these roles are also located in convenient campus locations for students and are very considerate of student schedules. And you can have more than one work-study job, too.
When should I apply?
There are job postings all year round, so you can apply whenever the time feels right for you. I personally started applying a few weeks into my first semester. I was going to wait a little longer, but I realized I could handle a job while being a student earlier than I had anticipated. It all depends on you and your situation. If you want a job before a semester starts (or even over the summer), apply over academic breaks.
Testimonials and how to decide on accepting an offer
Here is what some work-study students had to say about their own experiences, and what they have learned from their jobs.
Jasmine is majoring in Chemical Engineering and has worked as a Student Library Employee and Engineering Ambassador. She found her jobs through Handshake and an advisor she worked on a project with.
"I appreciate how flexible they are in hours, so I can also make time for my schoolwork and other activities. While considering my acceptance of the positions, I considered if they could fit well into my schedule, the hours offered, and the type of work I'd be doing on the job. My work-study positions gave me my first real job experience, which allowed me to build skills in time management, communication, and detail-oriented work."
Rose is majoring in Business Administration and is a Student Services Assistant at the Haas Undergraduate Office. She applied after a counselor reached out to her class cohort seeking student workers.
"My favorite part of the job is the people and having a deeper connection with the place I myself attend. I considered my class schedule and the role description itself when I was deciding to accept my position. I've gained interpersonal skills, learned to locate resources available to me for my success in a future career, mastered Excel, and gained more organizational skills through my job!"
Hosea is majoring in Cognitive Science and works in the Student Affairs Communications department as a Student Writer for this blog. He also worked with our website development team before transferring to the writing team. Hosea first heard about the position from a friend on the web team who referred him to the supervisor.
"My favorite part of my job is the working environment. It is pleasant and flexible because the people I get to work with are kind and supportive. I learned HTML and accessibility principles while on the web team, which are essential for user experience and website development. On the writing team, I regularly write and edit to produce effective communication material. Practicing these skills on top of participating in a workplace is valuable to my professional development and I am very grateful to have had these work-study opportunities."
Last words on work-study
Each student quoted above also gave advice for students considering a work-study job. I'll leave you with their thoughts and recommendations.
Jasmine: 'For students considering a work-study job, I'd say go for it if you have a spare 10-20 hours in your week. Along with the financial benefits, the work experience you gain is valuable and may be a good opportunity to connect with others."
Rose: "I would definitely join Work-Study again for a deeper tie to a Berkeley-related program, to make friends with staff and fellow student workers, and to learn about the resources that Berkeley offers for its students' success!"
Hosea: "The Work-Study program is a great way to gain professional experience and earn money. The staff understands we are students so they are really kind and accommodating with us. The income also allowed me to feel more financially flexible."
I applied to my role with Student Affairs Communications as a first-year, and my work-study contract was extended! I'm working alongside amazing people and gaining relevant experience to add to my resume and my portfolio. You never know what kind of networking connections and opportunities will open up with a work-study job!
Melissa Mora-Gonzalez is a third-year at UC Berkeley majoring in English and minoring in Journalism.
Want More?