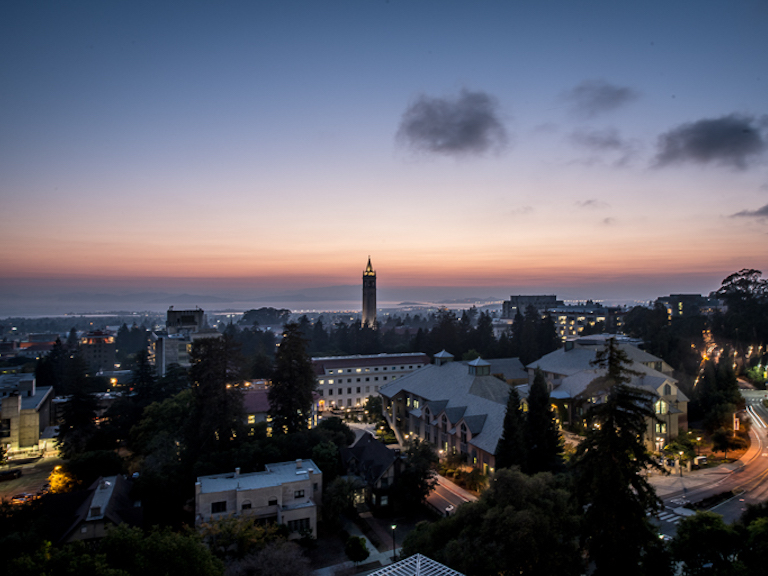 What to do on and around campus
So, you want to knock out a study session, go to an event, or grab something to eat after daytime hours. Where should you go and what can you do? Here's a detailed list of just that.
Where to Study
Sometimes that assignment or project won't be getting done during the day. You need a study spot that is open in the after-hours, and these libraries and cafes are perfect for this.
Many Berkeley Libraries have differing extended hours. Here are a few:
Open until 8 p.m.: Mathematics Statistics Library and the Music Library
Open until 9 p.m.: Law Library, Bioscience Library, and Doe
Open until 10 p.m.: Business Library, Chemistry and Chemical Engineering Library, and Environmental Design
Open until 2 a.m.: Main Stacks
24 hours: Moffitt
There are also a few cafes that have extended hours. Cafe Milano is open until 10 p.m., Victory Point Cafe is open until 11 p.m., and Caffe Strada is open until 12 a.m.
Where to Grab a Bite
Fueling up before or after a long study session is key. There are tons of great places for late-night takeout or dining in.
View this post on Instagram
The Durant Food Court, an alley of restaurants on Durant Ave., has an array of food options. Popular picks include Thai Basil, Kingpin Donuts, and L'Gusto Mex Fusion. Across the same street, there's IB's, Bunz, Top Dog, La Burrita, and Artichoke's Pizza. If you go down Telegraph Ave., there's Poke Parlor and Tacos Sinaloa. If you're getting a little rewarding treat for all the work you've been doing, check out CREAM, Yogurt Park, Uji Time Dessert, and Little Gem Belgian Waffles, all with late hours on or near Telegraph. East Bay Spice Company and Eureka are great spots if you're closer to Downtown.
If you're living in a res hall, check out the Dining Commons hours of operation.
Evening Activities
You don't need to just catch up on studies late at night. Enjoy an event, or get some exercise!
There are tons of late-night performances at Zellerbach Hall and Wheeler Auditorium. Check out Cal Performances for the latest shows. There are more great performances in The UC Theatre as well and the Berkeley Playhouse on campus. The Greek Theatre offers a variety of great musical guests throughout the year.
If you want to get a little physical activity in instead of watching a performance, there are options for you as well. Fire trails and Tilden Park are great sunset hikes. Mosaic Boulders gym on Telegraph stays open late. The RSF also stays open until 11 p.m.
Services to Get Home Safely
When you're out after dark, choose well-lit, well-traveled paths and remain aware of your surroundings at all times. If you appear distracted, such as checking your phone a lot or listening to loud music, you could be seen as an easy target for a crime. If you're walking, plan to travel with a friend or use BearWalk, a University Police (UCPD) safety program, where a free walking escort from UCPD is available from dusk until 2:30 a.m. to get you to your destination. You are escorted by one of UC Berkeley's Community Service Officers (CSO), student employees of UCPD, who are trained, uniformed, and carry a police radio. To schedule a BearWalk, call 510-642-9255 (642-WALK) or visit BearWalk.berkeley.edu.
Bear Transit, the campus shuttle system, offers the Night Safety Shuttle running from 7:30 p.m. to 3 a.m. Bear Transit's door-to-door shuttle service is available from 3 to 5:30 a.m. Log in through CalNet on the BearWalk website, request a ride at least 15 minutes in advance of your desired pick-up time, then get dropped off within the shuttle boundaries. Bookmark the Student Union's Safety & Wellness webpage for a one-stop-shop of the campus's safety resources.
Some students rent a scooter, or any other motorized vehicle, to get home quickly. This option is an alternative means of getting home and more ideal if you're with another person or you're fairly close to your destination. If you rent an e-vehicle, please respect yourself and others—did you know that in California you're not allowed to drive e-scooters on sidewalks, with a passenger, or without a license? Also note that these e-vehicles can't be operated inside campus housing buildings/residential facilities, but are allowed to be stored in your room if UL-Certified. Exceptions are scooters and mopeds above 45cc and motorcycles which can't be stored or charged inside residential facilities. Veo and Superpedestrian's Link are popular scooter rental companies. Remember to wear a helmet and share the road.
In addition to using night safety services, there are also emergency blue light telephones around campus to call UCPD if assistance is needed. Be sure to sign up for WarnMe, UC Berkeley's alerting and warning service, so that you can stay up to date with community advisories.
If you live in a res hall, keep in mind some housing safety practices. Always tap your own Cal 1 Card or fob when entering your building, even if someone holds the door open, and don't allow tailgating—when someone enters when you do—behind you. This good habit reassures the person holding the door that you live there and prevents any nonresidents from entering. If you have house keys, have your key in hand so you don't spend too much time in front of the door for others to follow you in. Tailgating Is a major safety risk for you and other residents in your building.
Enjoy Berk at Night!
Check out these various study spots, eateries, and events after sunset. When you're ready to head home, practice safety with campus services and awareness of your surroundings. Enjoy our beautiful town and campus after hours!
Preslee Vanlandingham is a fourth-year at UC Berkeley majoring in English and minoring in creative writing.
Want More?