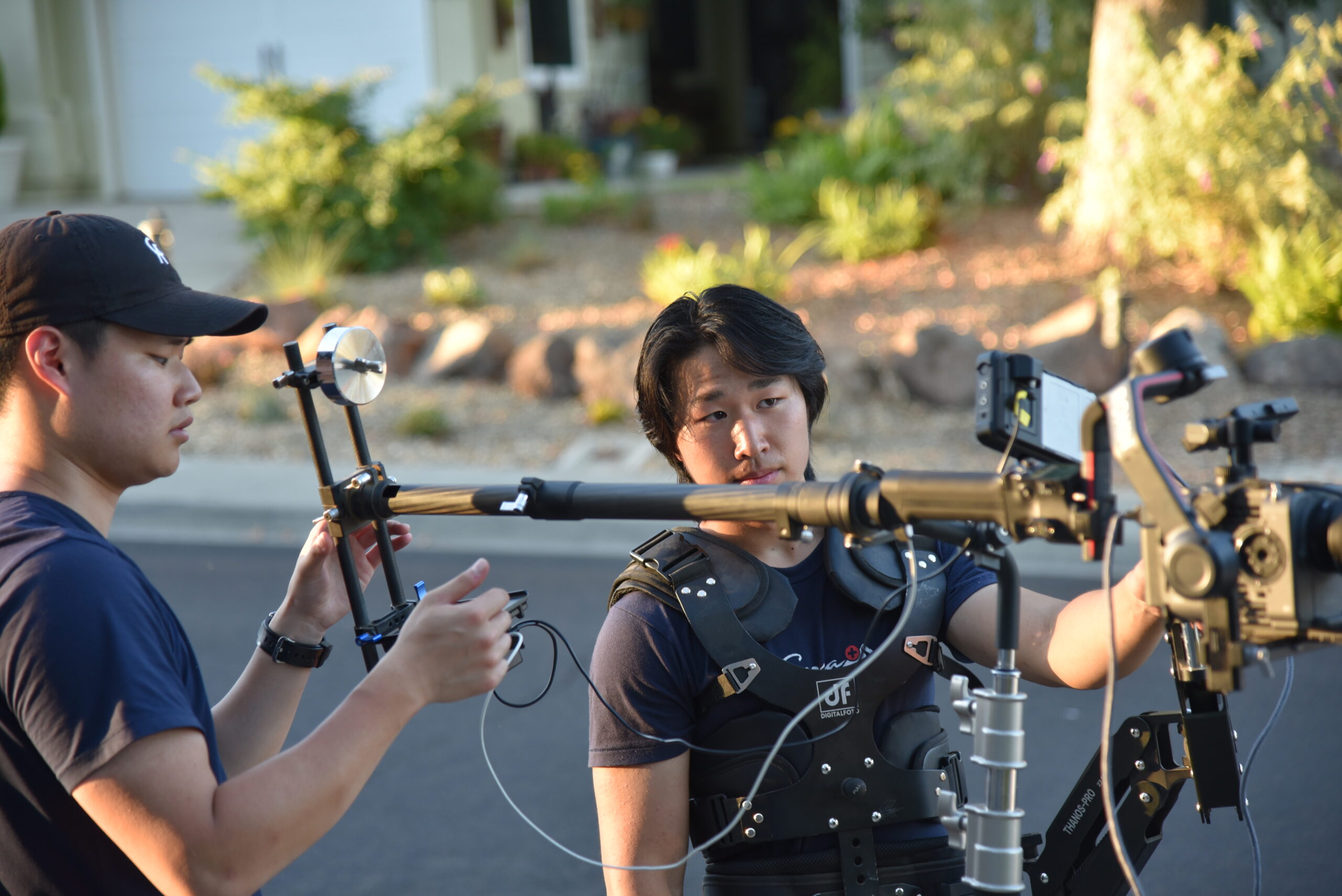 About Berkeley's premier film production club.
I've known that my heart belongs to the arts since I was ten years old. Painting energizes me, paper cutting calms me, and drawing lets me turn off my mind completely. Out of all media though, writing is how I make sense of my world. It's grounding in a way I struggle to describe, even with nineteen years of practice under my belt. Having grown comfortable with poetry and prose, I decided to challenge myself last semester and delve into the world of screenplays. To do so, I joined Cinematic Arts & Production (CAP) Club.
CAP Club is UC Berkeley's premiere film production organization. It was founded in 2018, and has since produced over 100 short films, ranging from five to forty minutes long. Members know the club's primary objective like the back of their hand: to make the highest quality student films possible. CAP Club is proud to be a part of Cal's vibrant film community, but while most other clubs focus on different aspects of media—such as marketing, appreciation, or theory—CAP Club distinguishes itself through its focus on production. Put simply, it is committed to making movies.
Shamus Li, CAP Club's current president, describes the organization as a tight-knit community of passionate individuals dedicated to hands-on production. "We guide students and provide the resources for them to create profound stories," he remarks, "consistently pushing the boundaries of student filmmaking at Berkeley. From technical-oriented roles to creative ones, we embrace and encourage every single part of the film production process."
Meet Steven, DP
In order to learn more about CAP Club and the diverse community it boasts, I spoke with Steven Zeng (Class of 2026). A data science and environmental science double major with a love for filmmaking, Steven has been a general member of CAP Club for all three of his semesters at Cal, and a board member for two.
How did you get into filmmaking?
"Do you want the short version, the long version, or the really long version?"
Rejected from his dream universities, Steven decided to join the workforce. So the day after he graduated high school in Texas, he moved to New York. He worked as a grip and assistant camera operator (AC) for his brother, a Director of Photography (DP). While Steven had been his high school's resident "camera kid," he'd never actually been on a film set with other people prior to his time on the East Coast. 
"Being on these sets and finding this passion in making one big thing was amazing," he said to me, smiling. "And not even being on camera, but behind it! Having my own bit of art inserted into the medium was truly beautiful."
What position do you tend to hold on film sets?
"I'm typically a DP—AKA Director of Photography, AKA cinematographer, AKA glorified cameraman." 
Steven explains that being a DP requires comfort in using a camera, building a camera, and differentiating between cameras. "You have to know whether a given camera fits the project narratively," he says. "As a DP, you translate the director's creative vision into a technical reality."
In terms of pre-production, a DP's responsibilities include scouting locations for scenes, communicating with gaffers (lighting operators) and ACs (assistant camera operators), and listing shots with the screenwriter and director. During production, the DP is usually the person behind the camera. In post-production, the DP is less heavily involved but still works closely with the colorist (the editor in charge of color grading the film) to ensure that lighting matches the vision.
Why did you join CAP Club? What have you learned from your time with CAP so far?
"The images that I help create evoke emotion in people, and that's a very powerful thing."
Accepted to UC Berkeley after a gap year that included living in New York, Alaska, and Texas, Steven knew he needed community and stability. Enter CAP Club. Through this organization, Steven has found his closest friends, as well as his roommates, and had some of his most memorable college experiences.
CAP Club has helped Steven develop both his technical and soft skills. In addition to using more camera systems, lenses, and methods of lighting, he's able to better communicate with directors, and is more in touch with his emotions. "Emotional vulnerability is a huge part of what we do," he explains. "I'm better now at understanding how to work with people who are creating personal projects."
What advice would you give to students interested in applying for CAP Club?
"Be genuine, be kind, and be thoughtful throughout the entire process."
CAP Club is a relatively new student organization, which means that they're still working to formulate their identity, and there aren't many creative restrictions on filmmaking. Because of this, Steven urges potential applicants to be true to themselves and remember that the sky's the limit when it comes to pitching ideas. 
This past semester, CAP Club's application included a one-minute video section where applicants could submit anything they'd like to bolster their resume. Steven suggests that you play to your strengths and interests in this section: "If you like lighting, maybe do a lighting breakdown of a scene from one of your favorite movies. If you're a director, you could discuss some of your greatest inspirations or certain techniques you use. If you edit, show off what effects you know!"
Movies & Memories
CAP Club allows students to meet people with similar interests, flex their creative muscles, and garner hands-on experience with film production. Above all else though, it provides a sense of family and community for its members. CAP's motto is "We make movies," but "We make memories" is probably just as accurate.
If you're interested in supporting CAP Club, their first premiere of the 2023–2024 school year will be held on Saturday, October 7. We hope to see you there.
Nina Takahashi is a second year at UC Berkeley majoring in film and minoring in Japanese. Feature photo is an image taken by Tobin Carter of Steven Zeng (right) filming on set.
Want More?