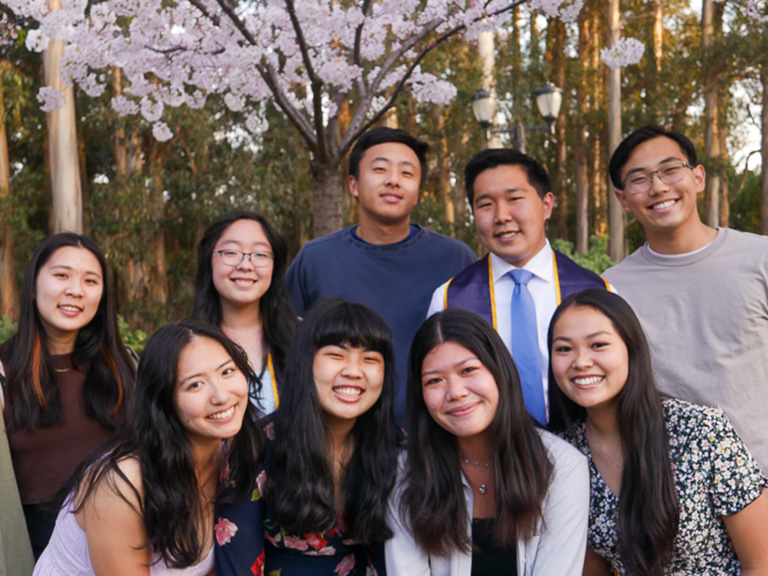 Celebrating the Asian American & Pacific Islander (AA&PI) community
The month of May is designated as a time to celebrate the diverse beauty of the Asian American & Pacific Islander (AA&PI) community. With over 50 ethnic groups, there are abundant AA&PI cultural contributions to celebrate and appreciate, while also recognizing the many ways their experiences converge and diverge. While honoring heritage months is not enough to remedy discrimination that marginalized groups face, it does increase community visibility—an important first step.
In celebration of the month I interviewed Kylie Kubota and Emily Torres, two staff chairs of UC Berkeley's Nikkei Student Union (NSU), a cultural club established in 2002 for members of the Japanese diaspora ("Nikkei").
Meet Kylie & Emily
Kylie Kubota is the External Vice President of NSU. Originally from Rocklin, California, they joined NSU—and later, NSU staff—to get more involved with the Japanese American community. Emily Torres is the Community Service & Issues Chair of NSU, with her hometown in Vacaville, California. Like Kylie, she joined NSU to make connections with people who share her lived experiences.
As Community Service Chair and External VP, both Emily and Kylie's responsibilities center around collaborating with fellow Asian American community organizations. These include the Berkeley Japanese American Citizens League, the Japanese American Women Alumnae of UC Berkeley, and the Berkeley Peace and Justice Commission.
Day of Remembrance
While NSU hosts around thirty events during a given school year, Kylie and Emily easily agree that Day of Remembrance will "always have a special place in their hearts."
Day of Remembrance is a nationwide event held annually on February 19th, the date when President Franklin D. Roosevelt signed Executive Order 9066 into effect in 1942, which led to the incarceration of over 120,000 individuals of Japanese ancestry in America and Latin America.
NSU's Day of Remembrance brings together Japanese Americans from across California to share their families' stories of incarceration during the years of 1942 through 1945. It features keynote addresses by Japanese American historians and scholars, presentations by fellow marginalized communities experiencing similar discrimination, and a candlelight vigil to honor those we lost during incarceration.
Emily: "Hearing this collection of important and deeply personal stories has now become my favorite NSU event. It's easy to look at history and view it as simply history and something of the past. Day of Remembrance emphasizes the individual people and stories of the interment and reminds us how connected we are to the past."
Finding Consciousness & Community
As a staff member of NSU myself, I often remark that this club has helped me remedy the cultural dissonance I've experienced since I was young. Additionally, it has broadened my definition of what it means to be Nikkei (of Japanese descent) and given me a family—two debts I can never repay. With this in mind, I asked Kylie and Emily about how NSU has helped them develop their racial consciousness and find community.
Kylie: "I grew up in an area with very few Asian Americans and even fewer Japanese Americans, and as such, there were few opportunities to learn about Japanese and Japanese American culture outside of my family. I knew that UC Berkeley had a much larger Asian community than back home in Rocklin, so going into college, I was really looking for a space where I could both learn more about my heritage and connect with others who had similar experiences to me. NSU was exactly what I was looking for. I've been able to learn about Japanese culture, connect with other Japanese Americans, hear about different experiences within the community, and make some very close friends."
Emily: "I found a family through NSU. I grew up in Vacaville, and other than my dental hygienist, I didn't know any Japanese people. Vacaville at one point actually had a large Japantown and thousands of Japanese and Japanese American agricultural orchard workers. But after the incarceration during World War II, they weren't welcome anymore, and so they didn't return. I knew that when I got to Berkeley, I wanted to join a Japanese American cultural club. I found that with NSU, and I found my closest friends, too."
Why NSU and Other Identity-based Clubs?
While I'll always consider NSU to be special, this cultural club is one of many identity-based organizations on campus that caters toward students of a historically marginalized community. As a final question, I asked Emily and Kylie what they believe is the importance of having identity-based groups for students of color, queer students, or students of other marginalized groups.
Emily: "Identity-based organizations are important because a lot of people don't have these if they're from less diverse hometowns. For members of historically marginalized groups, finding a community helps create a support system and a sense of belonging. It's so easy to feel othered or 'on the outside,' but an identity-based organization can ensure that you find a group that you're comfortable in."
Kylie: "Identity-based organizations give students from historically marginalized communities a unique opportunity to meet and bond with others who share their experiences, as well as provide a safe space to celebrate and learn about one's heritage. Maybe it's a little corny, but I think NSU really gave me a better understanding of both my own identity and the many facets of the Japanese American community."
Final Regards
Like many other AA&PI heritage-based organizations, Berkeley's Nikkei Student Union gives a home to students of Japanese descent. I feel particularly grateful to have joined NSU staff this past semester, and to have met Kylie and Emily. If you're a student of color hesitant to join your respective organization, try just going to a few events to begin with and talking to current members. As Emily remarked to me, the chances are you'll find your people there.
Happy Asian American & Pacific Islander Heritage Month to all of my fellow AA&PI-identifying individuals. Sending you all the love this May.
Nina Takahashi is a Japanese American first-year at UC Berkeley majoring in Japanese and film.
Feature photo by Nikkei Student Union Historians: Kylie Kubota (first row, center left), Emily Torres (first row, right), and fellow members of the Berkeley Nikkei Student Union pose in front of cherry blossoms.
Want More?