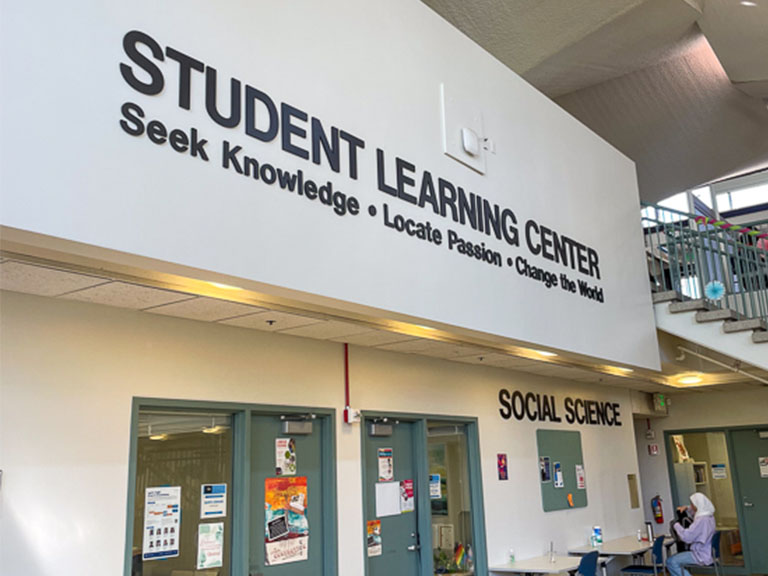 The Student Learning Center: Tools for Success
Set yourself up for success during exam season (and all year long!) by utilizing the wide variety of services and support offered by the Student Learning Center (SLC), like peer tutoring or study groups. The SLC empowers students as learners and helps them feel confident in their classes.
The SLC is located on Lower Sproul Plaza, through the doors of the Cesar Chavez Student Center. Inside, students can work and learn in the SLC's Atrium. The Atrium is a large, light-filled, and welcoming space to gather. There are tables on both the first and second floors that facilitate learning, small-group collaboration, and social interaction.
When I visited the SLC with my team member, Izzy Banayad, she shared her experience with the SLC's services. "I've been going to the SLC for tutoring, exam reviews, and topic reviews in various classes since my freshman year, but especially for Chemistry classes like CHEM 1A, 3A, and 3B. The tutors are extremely helpful and encouraging and I love receiving one-on-one help that is often difficult to get in large lectures and office hours."
Tutoring
Tutoring is done by peer staff, which allows students to get one-on-one support and a learning experience customized to their needs.
Drop-in and appointment-based writing assistance allows students to get comprehensive support on their essays.
Drop-in tutoring for economics, math, and science is located around the Atrium. The SLC also offers exam review sessions. You can look up online what specific courses have support programs offered.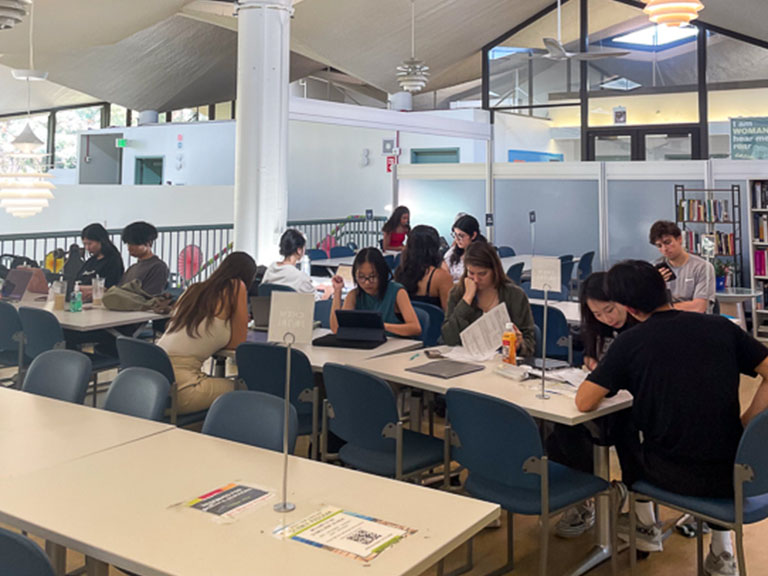 Students learn from peer tutors in the upstairs science section of the Student Learning Center.
What's it like to be a tutor at the SLC?
We talked to one of the peer tutors at the SLC, Rachel Perez. Rachel is a third-year studying economics and tutoring it too. We asked her about the benefits of learning from peer staff.
Rachel P.: As a freshman, I would come to the SLC for help in my intro courses, specifically Econ 1, and I think something that sets apart the SLC is that you get that one-on-one help with someone. During lecture and discussion it's a larger space, and you don't have that one-on-one help. So here at the SLC, we have tutors that tailor to your needs, that help you discover your learning process, and give you that unique experience so that you want to come back and get that help.
She went on to share her favorite part of working as peer staff at the SLC.
Rachel P.: It's definitely the collaborative environment, and also the meaningful relationships that you make with students. We have new students coming in every week for help in their courses. We also have students that come in once, and then continue to come for the rest of the semester, so those are the students we really get to know.
The SLC can also be a great place to visit if you just need somewhere welcoming to study! When will you visit the Student Learning Center's Atrium or try out their peer tutoring resources?
Rachel Holmes is a sophomore at UC Berkeley intending to major in media studies. All images taken by Rachel Holmes.
Want More?