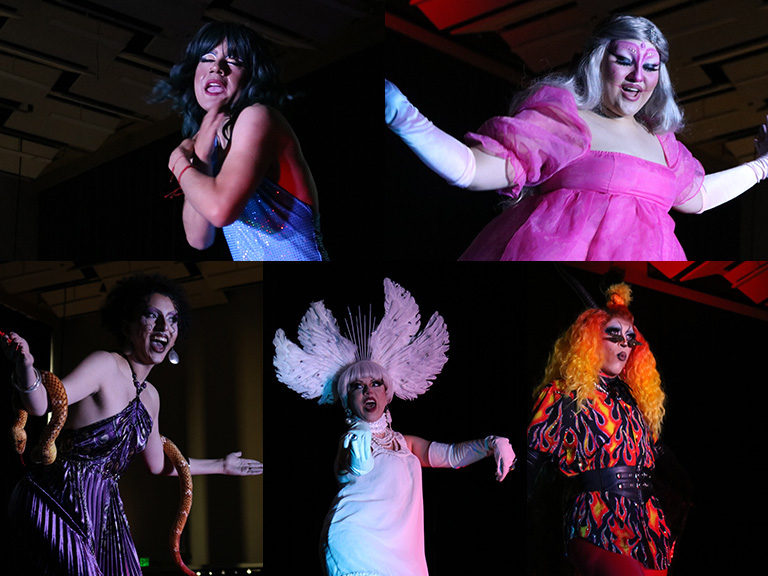 A Celebration of Drag
On April 14, UC Berkeley Housing's UNITY Theme Program electrified MLK Student Union's Pauley Ballroom with the program's 15th annual Drag Show. Featuring both UC Berkeley students and community performers, the show captivated an audience of hundreds, nearly selling out the physical venue – even more people were watching the show via livestream. Most of the audience members were also dressed up for the theme in drag. UNITY cultivated a tangible sense of community and support throughout the evening with a beautiful night dedicated to self-expression and resistance to societal norms.
"As Above, So Below"
This year's theme was "As Above, So Below." UNITY believes the theme "explores the concept of dualism and the transcendence of liminal boundaries within heteronormative spaces… to champion inclusivity and empowerment for all." This intersection between queerness and otherworldly, celestial elements was intended to recognize and empower the diaspora of gender and sexual expression. This abstract theme was well-received by all performers who embraced its ambiguity and space for personal interpretation.
Fourth-year molecular and environmental biology student Ora Younis is a resident assistant (RA) in UNITY and was the creator of this year's theme. To Younis, "As Above, So Below" centers around dualities – "the dualities between the spiritual and the physical, the dualities of heaven and hell, underworld and overworld… it's just about conflict and resolution between planes of reality."
UNITY Theme Program
Cal Housing's UNITY theme program is a self-described "living-learning community that focuses on LGBTQ+ education, community-building, and leadership development." Located in Unit 3's Spens-Black Hall, all UNITY residents reside together. They actively participate in a weekly academic seminar and numerous campus initiatives to promote and engage with LGBTQ+ resources, communities, and means of advocacy. The drag show is a key example of the program's incredible work for community engagement as the evening was entirely run by UNITY students. Pauley Ballroom reflected the program's incredible work with art, lighting, music, decorations, and a runway all relating to this year's theme.
Second-year English and Linguistics student Adrian Martinez was a UNITY resident last year. Martinez reflected on the program's open, inclusive nature and how helpful it was to have a queer community as a freshman.
This year's performance is Martinez's second drag show with UNITY. "It doesn't matter what experience you have, it doesn't matter where you come from," Martinez said. "[UNITY is] just very welcoming." Martinez was the closing number of the show, performing a fun mashup filled with acting, a sensational blue outfit, and amazing audience engagement.
What Drag Means to the Performers
After talking to the majority of performers, drag ultimately was defined as a means of self-expression, love, and freedom.
Gender and Women's Studies, Ethnic Studies, and LGBTQ+ studies student Xander Vazquez, or Maricón in drag, has spent their entire life involved in drag. Vazquez accredited much of their inspiration and influence to previous drag performers in the name of queer and trans liberation.
To Vazquez, drag means everything. "Drag was this venue for me to explore and completely get rid of the idea that I needed to be anything, that I needed to be a man or a woman. Gender does not have to exist – I am just art."
The spirit of the event shines through in Berkeley Life Instagram coverage.
View this post on Instagram
Amplifying LGBTQ+ Community
The night's performances reflected the wide range of what "As Above, So Below" meant to each individual artist. From the complicated love story of Bowser and Princess Peach to Wanda Vision to angels and devils, and everything in between, each drag performer used makeup, costuming, and the art of performance to reflect their individuality in conjunction with the theme. Each number felt profoundly personal – the music, choreography, and essence of every performer allowed the audience to get a glimpse of who they are when in drag.
The night also included QR codes to performers' social media and Venmo accounts, LGBTQ+ campus resources, harm reduction strategies, and ways to advocate for the queer community and preserve drag.
UNITY's 15th anniversary drag show amplified the voices and work of the performers, LGBTQ+ students and community members, and anyone who had ever been subject to societal oppression. "As Above, So Below" ultimately created a beautiful space for an evening of "inclusivity and empowerment for all," just as UNITY had intended.
Kelsey McIvor is a junior at UC Berkeley majoring in Global Studies and minoring in Spanish and journalism
Want More?