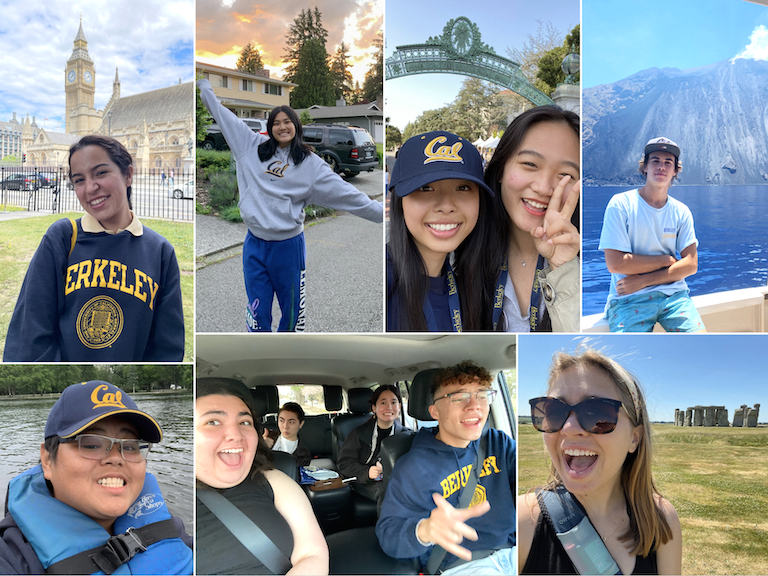 More Ways to Explore Campus.
You might have heard about Berkeley Life's Summer Selfies Contest that was held over Instagram through June and August. We're sharing a small handful of the rich and varied summer experiences that students described in the survey, along with quotes about what they're looking forward to exploring at UC Berkeley during the academic year. If these sound fun and you want to try a similar adventure, check the accompanying links and resources to learn how you might add your own brand of extra excitement to your college experience.
Growing at Berkeley
"I am definitely looking forward to developing my character more and learning new things along the way! I definitely want to have an adventurous and fulfilling time at Cal by taking things one step at a time." — Natalie R., Environmental Engineering Science major, Class of 2026
Natalie, a newly admitted student, spent her summer painting and crocheting with her partner, and also got a head start on the Berkeley experience by participating in the PREP program. The Pre-Engineering Program (PREP) begins with three weeks of a summer program and continues throughout the year with workshops and weekly study groups. All incoming first-year students are welcome to apply for the program, which is provided at no cost to participating students.
If you're also interested in building community, explore the Student Affairs' Belonging and Community page, which is a part of the Success Toolkit, a guide for all students navigating campus.
"I'm really excited to be meeting the friends that I've met online and making my Fall semester one of the best moments of my life!" — Rico B., Cognitive Science and Public Health major, Class of 2026
The summer months can offer increased amounts of free time, which Rico took advantage of by finishing up certificates they'd been working on and getting a part-time job. Rico did this during their down time, because they spent most of their summer traveling. Sounds like a great balance of relaxing and getting things done to me!
Discovering Student Orgs
"I'm looking forward to life in the Bay, and joining the student organizations! Within a bigger school like Berkeley I can't wait to explore the diversity." — Andrea L., Nutritional Science major, Class of 2026
Andrea spent her summer vacationing with family and participating in Summer Bridge at Berkeley. Summer Bridge is a six-week program where incoming students take two academic courses and participate in a mentorship program. Participants are immersed in the workload and rigor at Berkeley while also adapting to college life with this on campus program.
"I am looking forward to getting to see more about different student organizations Cal offers and figuring out more ways to help give back to the community." — Sienna S., Undeclared major, Class of 2026
Sienna solo traveled around Europe and took advantage of the summer sun by reading in different parks and enjoying the vibrant life around her.
If you're like Andrea and Sienna and looking to join a student organization, but are not sure where to start, read our article about searching for the right club for you. There are plenty of opportunities to get involved — even with multiple groups. For inspiration or extra guidance, read one student's journey through joining six student orgs.
Experiencing New Things
"I'm looking forward to finally being an active member in my organizations instead of being a new member." — Angela L., Nutritional Sciences: Physiology & Metabolism major, Class of 2024.
New students aren't the only ones excited about clubs! Third-year student Angela loves reading books and attended a SHPEP summer program in her home state of Washington. The Summer Health Professions Education Program (SHPEP) is a free summer program that focuses on providing resources for college students who are interested in health professions. It is held at 12 universities across the U.S., including the University of California, Los Angeles and Charles R. Drew University.
"I'm excited to meet new people at my job as an OM! Also starting my senior year." — Vanessa L., Legal Studies major with minors in Chicano Studies and American Studies, Class of 2023
One of the winners of the Summer Selfies Contest, Vanessa, spent her summer studying abroad in London. Be sure to leave a like on the Berkeley Life Instagram post she was featured in, and see what other Cal students were up to this summer.
"I'm looking forward to enjoying time with old and new friends, delving deeper into STEM classes, and exploring the Bay Area (especially the food!) on the weekends." — Stacy W., Bioengineering major, Class of 2026
Another winner of the Summer Selfies Contest, Stacy, spent her summer traveling with the National Youth Orchestra: playing at Carnegie Hall and other concert halls throughout Europe. Don't miss out on UC Berkeley's Symphony Orchestra performances or their auditions that are held before semesters begin every year. Good luck with those STEM classes, Stacy! For anyone looking for support in STEM classes and are not sure where to go, some good places to start are the Student Learning Center, EOP STEM and Berkeley Diversity's resources.
Taking New Classes
"I am excited to start my new positions on campus and to start taking classes for my Education minor!" — Wesley V., Sociology major, Class of 2024.
Wesley attended an Isaac Dunbar concert and road-tripped with other Berkeley friends in San Diego. The fun doesn't have to end with summer — if you are looking for more things to do during your time at Cal, make sure to read Berkeley Life's list of free and fun things for students.
If you're new to choosing classes (or experienced like Wesley), there are resources available to help you through the process, including college and major websites and the degree planner on CalCentral. Find specifics on these and other helpful resources in Choosing Classes at Cal.
"I'm looking forward to coming back to the Bay with all of my Italian dishes to cook! I am also looking forward to sharing the results of my research project on Mount Etna with my professors." — Kevin C., Geography major, Class of 2024
UC Berkeley students can end up all over the world during summer, and that includes Kevin. He conducted field research on Mount Etna in Sicily and took classes at the Ortigia Study Center. If you're thinking about spending a summer or even a semester abroad, start learning about studying abroad now: make sure you're aware of application deadlines and explore how programs can fit into your course requirements. If you're on the fence but interested, read one student's advice on how they made study abroad work for them.
As you might see, studying abroad is one of the many avenues for collaborating with instructors. But finding professors you really connect with starts with finding a class you love. This can be harder than it sounds — to help you out, find resources that have helped other students in their own journey.
A Recent Graduate's New Job
What do UC Berkeley students do after they graduate? One recent graduate shared her post-graduation travels and plans for humanitarian work. Paige traveled through Scotland and got engaged there as well. Congratulations, Paige!
"As a new Cal alumna, I will be working at an orphanage in Romania for developmentally challenged children and Ukrainian refugees." — Paige S., Molecular and Cellular Biology major, Class of 2022
The Career Center is here to help guide and help you achieve the post-graduation life you want. Take advantage of their resources and workshops to help you with internships or with job searches.
What are you looking forward to this fall?
If you'd like to participate in contests and surveys like this one (and be entered to win prizes) follow Berkeley Life's Instagram so you don't miss out on upcoming announcements, and sign up to be part of the Student Affairs Cast. A big thank you to all who participated — keep an eye out for another upcoming post that highlights more entries (if you submitted a response, you might see yourself featured!).
Melissa Mora-Gonzalez is a second-year at UC Berkeley majoring in English.